Prince Harry has said he hopes to bring America's Warrior Games for injured servicemen and women to the UK, believing that thousands of spectators would come to watch troops competing against each other.
The Prince will help light the cauldron which will launch this year's Warrior Games - a Paralympic-style competition featuring injured servicemen and women from the US, UK, Canada and Australia.
Speaking at a Colorado Springs brunch, held at the United States Olympic Training Centre, for wounded servicemen and women and senior officials organising the Games, the royal said after meeting competitors last year he was determined to return and watch them compete.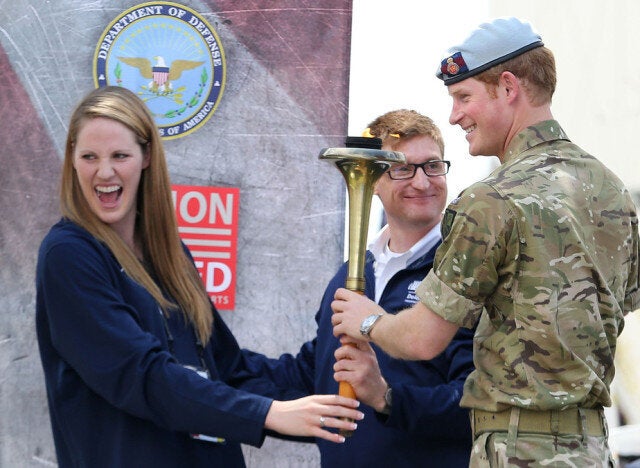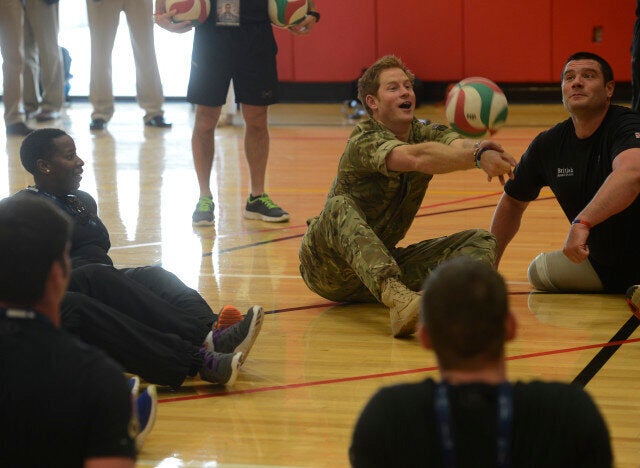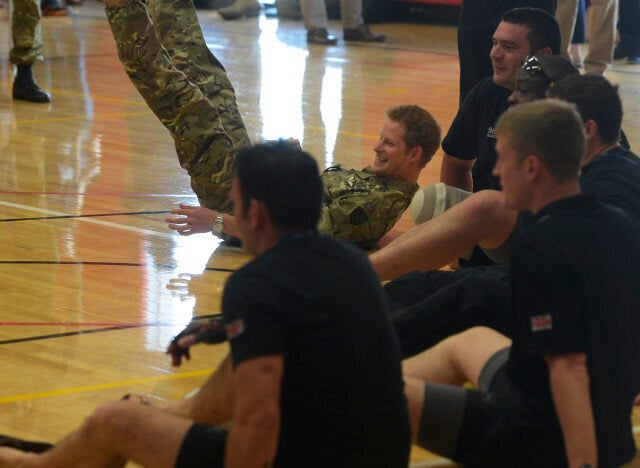 Prince Harry joked around with those taking part in the Warrior Games
Harry said: "I only hope in the future, the near future we can bring the Warrior Games to Britain and continue to enlarge this fantastic cause.
"I don't see how it wouldn't be possible to fill a stadium with 80,000 people, not to watch Olympics, not to watch Paralympics but to watch wounded servicemen fight it out amongst each other - not on a battlefield but in a stadium."
Speaking about the six-day sporting event being staged at Colorado Springs the royal got a large laugh from his audience when he joked: "I hope this is something you will all take a huge interest in as your nation will be coming probably second if not third to the UK team."
Harry told the audience how he first encountered the Warrior Games when he travelled to America last year to collect a prestigious humanitarian prize for his charitable work supporting the UK's Armed Forces.
He said: "A year ago I was in Washington on the Ambassador's lawn to plant a tree, which is what most of our family do nowadays, but after doing that I had the chance to meet some of the US and UK teams.
"I (remembered) thinking to myself how unfortunate I had been by not having the chance to go to last year's Warrior Games to see them win all their medals - despite of the fact we weren't officially part of it." Harry joked that all royals seem to do is plant trees 'nowadays'
He added that he told his team at St James's Palace "no matter what happens we need to be here, we need to get ourselves involved in the next one - and here we are."
"In the last 12 months since we last met, since I was last on the Ambassador's lawn, I found myself serving alongside UK and US troops in Helmand Province, along with other nations obviously.
"Some of them just voices on the radio to myself, others showing us great hospitality in (Camp) Bastion. No matter the detail or the accents I witnessed at first hand the bravery of our troops - not only in confronting the dangers of the battlefield, but also its tragic consequences: life-changing wounds and the death of friends."
He added: "The courage is clear and obvious from moment of injury to the countless hour of intense rehab ... it seems like a walk in the park for the rest of the guys who get injured but it's always the families who are the ones who get left behind."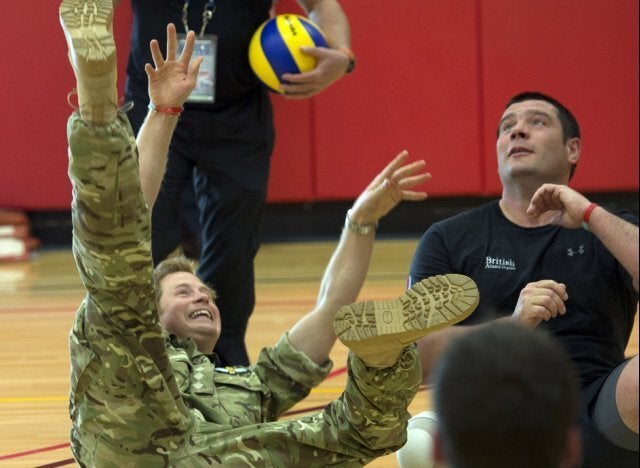 Harry was given a pair of red trainers with the word Captain embossed on one heel and Wales on the other.
Before he left to take part in the opening ceremony Harry highlighted what he believed was the importance of the Games: "With the Warrior Games combining sports and challenge I believe (this) will ignite inspiration and motivation through extraordinary achievement."
After his speech the Prince was given three sport themed presents - a union flag themed top and another one emblazoned with the initials USA.
Former US beach volley ball player and triple Olympic medallist Misty-May Treanor, 35, and her Paralympic counterpart Kari Miller, 36 made the presentations.
He also received a pair of red trainers with the word Captain embossed on one heel and Wales on the other.
Before his speech Harry had mingled with the guests and chatted to Mary Winnefeld, whose husband Admiral Sandy Winnefeld, Vice Chairman of the Joint Chiefs of Staff, was also present.
Harry joked with her about the size of the US team compared to that entered by the UK.
Mrs Winnefeld said: "He said 'we've got 30 and you've got 250 in your team, I consider that a fair fight'."
Speaking about the bonds between the British and American forces she added: "We fight with you, we recover with you, we really are partners."
"For people competing at the Games it gives them their life back and something to work towards."
Missy Franklin, the four-time Olympic gold medal winning swimmer, was also a guest.
Harry helped the sportswoman celebrate her 18th Birthday by joining others in singing Happy Birthday during a Denver reception last night.She was clearly still excited by the experience and said: "He's an inspiration, the way he gives back speaks volumes."
Speaking about Harry singing her Happy Birthday she said: "It was a surprise in the best possible way. He's so funny and down to earth. It was a wonderful way to celebrate my birthday."
Popular in the Community