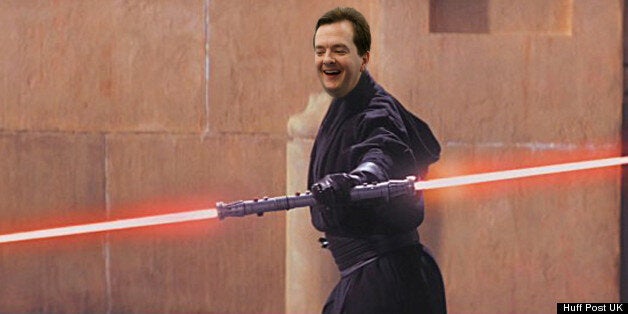 The eagerly-awaited re-boot of the Star Wars franchise, this time under the auspices of Disney, will be made in the UK, George Osborne has announced. In a coup for the beleaguered chancellor, the seventh instalment of the seminal sci-fi fantasy series will go into production next year, with Lucasfilm set to take advantage of the UK's generous tax credits for filmmakers.
Osborne announced the news, which will secure thousands of jobs in the creative industries, on Twitter on Friday evening.
Osborne later added: "I am delighted that Star Wars is coming back to Britain. Today's announcement that the next Star Wars film will be shot and produced in the UK is great news for fans and our creative industries, and it is clear evidence that our incentives are attracting the largest studios back to the UK. I am personally committed to seeing more great films and television made in Britain."
Speaking on Sky News on Saturday afternoon, Osborne called the announcement a "real vote of confidence in Britain's creative industries", adding "my favourite character is Han Solo".
J.J. Abrams, who helmed the Star Trek re-boot, is set to direct the first Star Wars film since 2005; Disney secured the rights to the franchise in a $4bn deal in 2012. The first four Star Wars films featured some production in the UK, with the original film 'A New Hope' shot in 1976 at Elstree Studios in Hertfordshire. The original trilogy was filmed at Elstree Studios in Hertfordshire
President of Lucasfilm Kathleen Kennedy said in a statement: "We've devoted serious time and attention to revisiting the origins of Star Wars as inspiration for our process on the new movie, and I'm thrilled that returning to the UK for production and utilizing the incredible talent there can be a part of that. Speaking from my own longstanding connection to the UK with films like Raiders of the Lost Ark, Empire of the Sun and recently War Horse, it's very exciting to be heading back."
The seventh film, which is so far unnamed, has been scheduled for a 2015 release date. Michael Arndt has been hired to write the screenplay, with an eighth and ninth film expected in 2016 and 2017. The Star Wars franchise has grossed more than £2.8bn at the box office since the first film was released in 1977, with rumours suggesting the seventh film will feature members of the original cast, including Carrie Fisher, Mark Hamill and Harrison Ford.