One of Britain's most wanted fugitives has been arrested in Spain, police said.
Andrew Moran, 31, from Salford, Greater Manchester, was arrested in the resort of Calpe in Alicante on Friday, the Serious Organised Crime Agency said.
Moran, who has been on the run for over four years, fled the country in 2009 after he vaulted the dock in a Burnley courtroom as he went on trial over a £25,000 armed robbery of Royal Mail guards.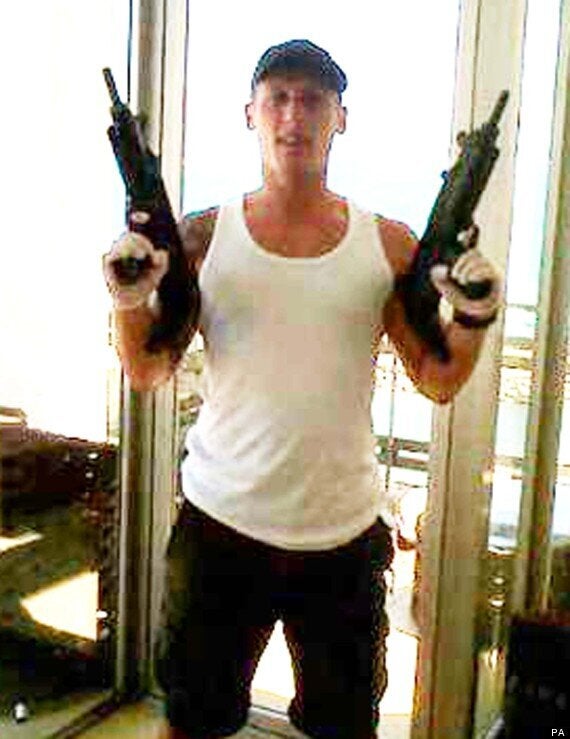 Moran poses with two automatic weapons
He was convicted in his absence for the cash in transit theft in 2005 in Colne, Lancashire.
Soca said Moran was captured in a dramatic raid at a luxury villa in the Costa Blanca.
An elite team of armed officers swooped on the robber while he was relaxing by a swimming pool.
Soca's North-West Regional Organised Crime Unit, also known as Titan, worked alongside the Spanish National Police on the raid.
They recovered two handguns, 60 rounds of ammunition and a machete at the property.
Moran was on the most wanted list for Crimestoppers' Operation Captura campaign, and his arrest means 50 fugitives have now been caught since it was launched.
Matt Burton, Soca's Head of Investigations, said: "Moran thought he could evade capture fleeing to Spain, frequently changing his appearance and using false identities.
"Like his partner in crime Devalda and the other armed robbers on the hit-list discovered, though, there's no hiding place. Soca and its partners have the capability to pursue criminals relentlessly, track them down, and put them behind bars."
Extradition proceedings are under way and Moran will be appearing at a court in Madrid tomorrow.
Moran was the last man from his gang to be captured after the audacious robbery outside an Asda store in Colne.
A handgun, machete and baseball bat were wielded during the £25,000 raid in which a security guard was injured.
The arrest of his co-accused, Stephen Devalda, 29, at a hotel in Marbella, Spain, in 2011, left Moran the final man on a police hit-list of the Salford-based armed robbers.
Pictures released by Soca show how the criminal changed his appearance by growing a moustache and his hair, as well as wearing glasses.
In one photograph Moran is posing with a rifle, while in another he is brandishing two automatic weapons.
Soca said in November 2012 Moran was tracked down to the Murcia area of Spain, but he managed to escape from local officers by ramming two police vehicles in his 4x4 and driving off at speed the wrong way down a motorway.
During a search of the house he was living in at the time a handgun, ammunition, five kilos of cannabis and a vacuum packing machine were recovered.
Detective Chief Inspector Janet Hudson, from Titan, said: "My officers have worked tirelessly alongside Soca colleagues and the Spanish authorities to track down this dangerous man.
"It just goes to show that we will stop at nothing to capture criminals wherever they are in the world. No matter how hard they try to evade justice they will not succeed."