An elephant in Zimbabwe has trampled to death a suspected poacher who was reportedly attempting to shoot the beast dead.
The remains of Solomon Manjoro were discovered in the Charara National Park in Gatshe-Gatshe, local paper The Sunday Mail revealed.
Manjoro was found by police after his associate Noluck Tafuruka was arrested on allegations of possessing firearms without a licence. The elephant is believed to have charged at Solomon Manjoro after he tried to shoot it (file picture)
The Telegraph reports Majoro was likely killed when the animal charged towards him after he tried to gun it down.
A third man, Godfrey Shonge, has also been arrested over the incident. The pair appeared in court last week to face charges of illegal possession of firearms and of contravening local wildlife laws.
The magistrate heard Majoro and Tafuruka had entered the park between April 19 and 26 "with the sole intention of poaching".
Ivory sales were banned in 1989 but a black market trade in tusks continues to boom.
Africa's elephant population was estimated at between 5 million and 10 million before European hunters colonised the continent, the Associated Press says.
Massive poaching for the ivory trade in the 1980s halved the remaining number of African elephants to about 600,000.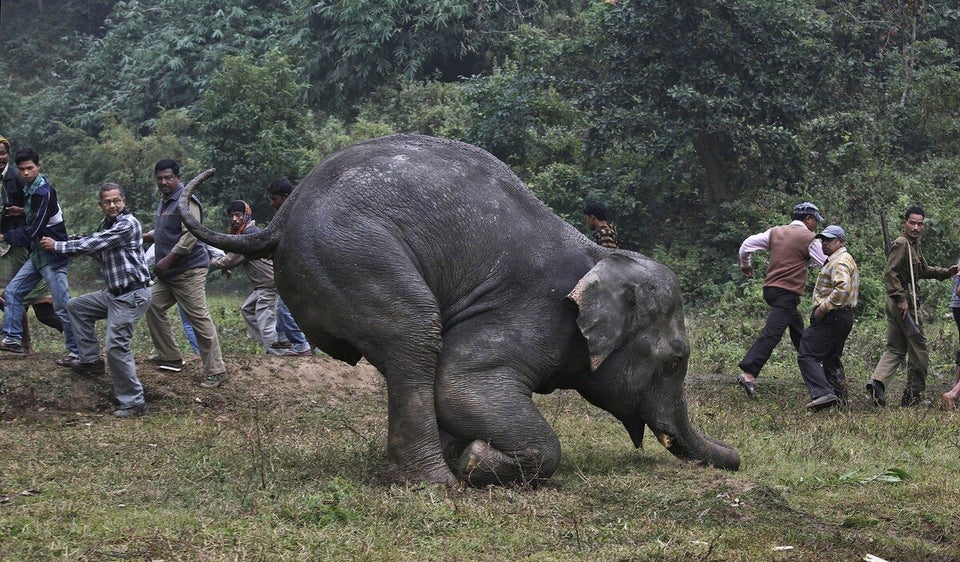 Elephant Poaching