Manchester United embarked on an open top bus parade a day after receiving the Barclays Premier League trophy on Sir Alex Ferguson's Old Trafford farewell.
And Ferguson has challenged United's title winners to make it a hat-trick in the next two seasons under successor David Moyes.
The Scot retires after Sunday's trip to West Brom but he was very much in charge for the trophy parade from Old Trafford into the centre of Manchester. The 71-year-old spoke to the thousands who gathered to watch the bus leave, setting his players a challenge they last achieved between 2007 and 2009.
"We have a young squad, with a lot of good young players, who are going to get better," he said. "The big test is to win it three times in a row. I hope the boys can do it."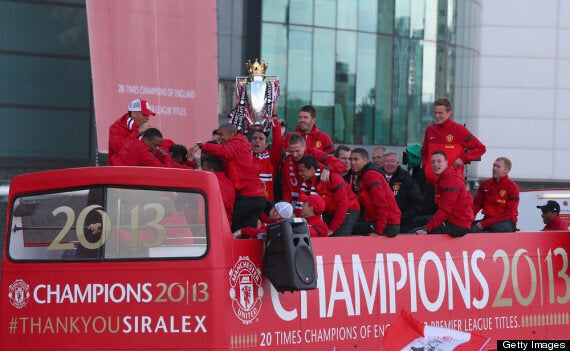 Ferguson thanked the fans for the reception they gave him during the 2-1 win over Swansea, his final game at Old Trafford.
"Yesterday was a day I will never forget," he said. "I thank you for that."
Ferguson also urged supporters to turn up for Tuesday's Under-21 encounter with Liverpool at Old Trafford.
"We play that mob across the road," he said. "I hope some of you cheer the young lads on."
Sir Matt Busby Way had to be closed as it reached its 20,000 capacity as the awful rain that belted down in the hours prior to the parade eased off. Indeed, blue sky appeared for the send off, with Rio Ferdinand and Ashley Young leading the singing, including a tribute for Robin van Persie.
"It feels amazing," said the Dutchman, who is also virtually certain to win the Premier League Golden Boot. "It has been an unbelievable experience. It has been worth the wait. I have loved every single bit."
Wayne Rooney was also on the bus. However, he was not asked by MUTV to do any interviews and he endured a mixed reception from the fans.
Popular in the Community