It has all the hallmarks of a Cold War thriller, an all-American spy, complete with blonde wig, wads of cash, chiselled cheekbones and files of information for a potential Russian turncoat.
Apart from the obvious anachronism that the alleged "spy" was handing out his email address to contacts, it could be a story from 1975. But Russia's counterintelligence agency announced on Tuesday that it had cornered a CIA officer operating from the US Embassy, attempting to recruit a Russian double agent.
The Federal Security Service named the alleged "spy" as Moscow-based Ryan Christopher Fogle who was said to be carrying printed instructions for the Russian citizen being recruited, huge sums of money for the potential recruit, and a disguise for his target to wear, according to the Kremlin-favoured broadcaster Russia Today.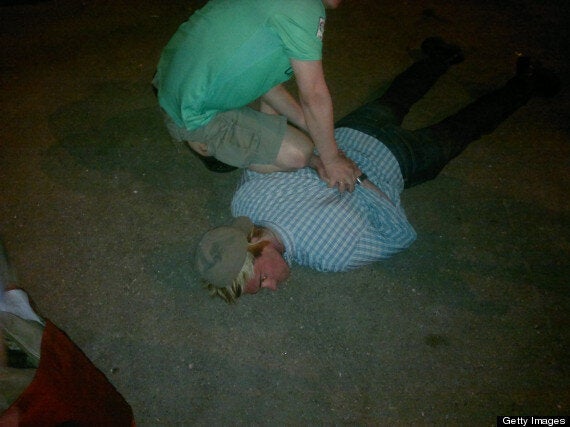 A man, identified as Ryan C. Fogle, the third secretary of the political section of Washington's embassy in Moscow, is held to the ground during his arrest by Russia's Federal Security Service
The state television service showed images of a man, identified as being Fogle, being held to the ground face down and having his hands put behind his back during his capture.
Long, strawberry blond hair seems to be peeking out of the American's baseball cap, but pictures taken after his arrest show Fogle with cropped dark hair, indicating he was wearing a wig at the time of his arrest.
The broadcaster said that Fogle was carry a letter, offering a payment of $100,000 for an interview to discuss co-operation, and a potential salary of $1m a year for supplying information to the Americans. He was arrested and questioned, but has since been returned to the embassy.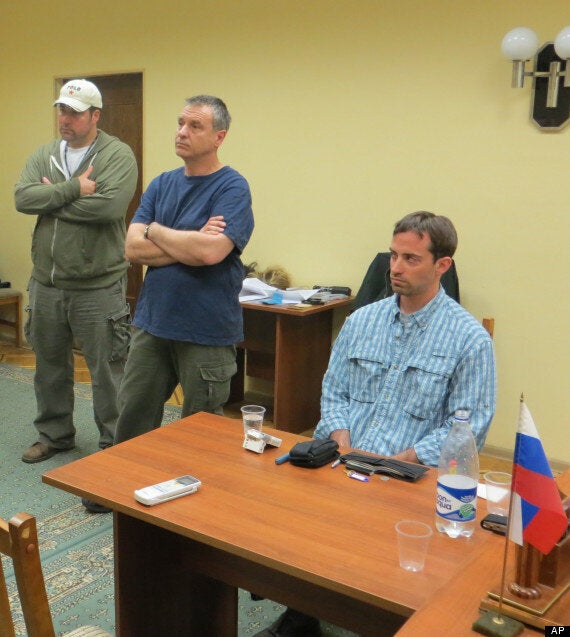 A man claimed by FSB to be Ryan Fogle, right, sits in the FSB offices in Moscow
In a James Bond-esq twist, the information Fogle was allegedly carrying also contains instructions with how to create a fake Gmail account, and how information will be received between the double agent and the US.
The recruit should email unbacggdA@gmail.com, and a reply will be received a week after the message is sent.
Contacts are advised to be stored on a separate mobile phone, which should be paid for in cash.
"Thank you for reading this. We look forward to working with you in the nearest future. Your friends," the instruction ends. An ID of a man claimed by FSB to be Ryan Fogle
US Ambassador to the Russian Federation Michael McFaul has been summoned by the Russian government to answer questions over the arrest.
He refused to comment on the detention of one of his staff, but was quizzed on the matter during a #AskMcFaul session he was conducting on Twitter on Tuesday afternoon. His reply was cryptic.
Related