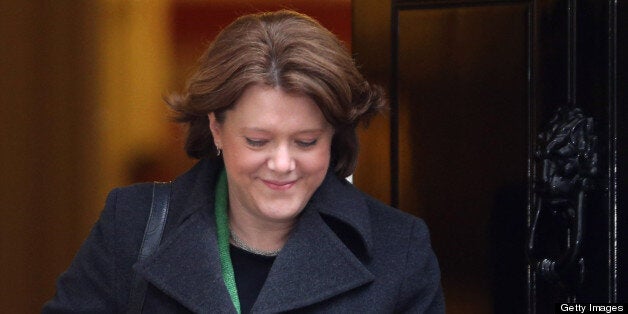 Civil partnerships could be expanded to included heterosexual couples under government plans revealed last night, after culture secretary Maria Miller conceded a "review" into the future of the unions.
However some MPs fear the amendment tabled at the last minute to the gay marriage bill is actually designed to kick the issue into the long grass.
On Monday the Marriage (Same Sex Couples) Bill, which has proved highly controversial with Tory MPs, will return to the House of Commons for two further days of debate.
Miller announced on Thursday evening that following lobbying by MPs over the status of civil partnerships, the government is proposing to "formally review" their future - despite her opposition to their expansion.
"The Equal Marriage Bill is about extending marriage to same-sex couples. Questions have been raised about whether we should also extend civil partnerships to opposite-sex couples," she said.
"There are strong views on both sides of this debate, and we have listened to those views. We are therefore offering the House the opportunity to have a review of this area, rather than legislating now without the required evidence."
However Conservative backbench opponents of gay marriage have tabled their own amendment to the Bill that would introduce civil partnerships for heterosexuals at the same time as the gay marriage bill is passed. The government is concerned it is actually an attempt to disrupt and delay the introduction of gay weddings.
Tory MP Tim Loughton, who opposes gay marriage, said the backbench amendment which would allow heterosexual civil partnerships right away had "wide support from supporters and opponents" of same-sex weddings.
He suggested the government's promise of a review was a "desperate" attempt to persuade MPs not to vote for his amendment which would see the expansion of civil partnerships added to the bill.
Reading East MP Rob Wilson told HuffPost UK whatever the outcome of any future review of civil partnerships that the government has planned, there was "no good reason not to correct this inequality now".
"It would be wrong if a Bill designed to bring about greater equality actually ended up creating new inequalities between same sex and heterosexual couples," he said.
"Many couples in loving stable relationships – both gay and straight - for whatever reason do not wish to go down the traditional marriage route, but do want a public recognition of their commitment and the protections under the law that civil partnerships have rightly brought to gay couples."
Wilson also suggested the real purpose of the review, as well as being an attempt to avoid a Commons defeat, was part of a plan to phase out civil partnerships once gay couples are given the equal right to get married.
"If the government is thinking of abolishing civil partnerships, it should have brought forward such proposals at the same time as the Equal Marriage Bill," he said.
Miller told a Commons committee earlier this week that she did not think it was necessary to open up civil partnerships to heterosexual couples. The culture secretary said she was concerned including the measure in the bill would significantly delay the implementation of gay marriage.
"We don't feel there is either a necessity or a requirement to open up civil partnerships to heterosexual couples because there is no deficit there – there is no lack of an ability to be able to formalise a relationship in a legal way," she said. "It is already there for heterosexual couples. It's called marriage."
The push to allow straight couples to get married has received the backing of both opponents and supporters of gay marriage from all three main parties.
Labour front bencher Chris Bryant, a strong supporter of gay marriage, told BBC Question Time on Thursday evening that "we should have both for everybody, it should be exactly the same".
However it is an uneasy alliance. Some pro-gay marriage MPs who also support civil partnerships for heterosexual couples suspect some Tory MPs of wanting to eventually restrict marriage to religious ceremonies while the state just conducts civil partnerships.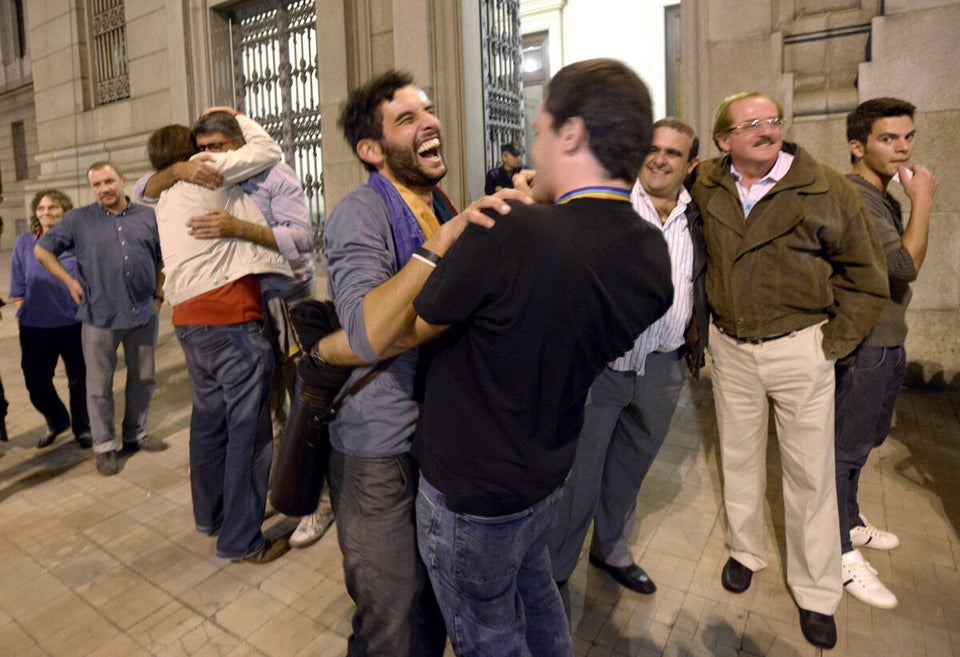 Gay Marriage Demonstrations And Celebrations In Uruguay And France