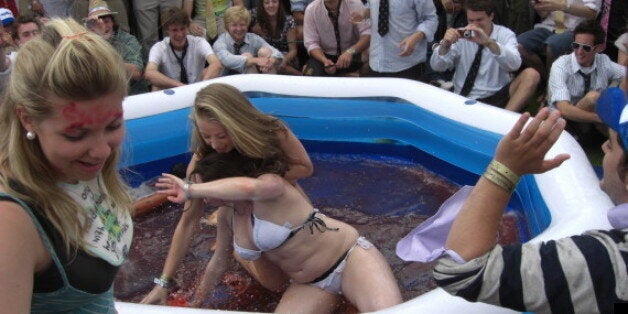 The event, hosted by Magdalene College's all-male drinking society the Wyverns to celebrate the end of exams, was pulled a week ago after concerns the pastime was misogynistic were aired. Nina de Paula Hanika, a student at Magdalene, started a petition to cancel the event, saying it was " clearly sexist, misogynistic and completely inappropriate as entertainment for 2013".
The Cambridge University society eventually bowed to public pressure and said the jelly wrestling would be cancelled at this year's garden party.
"Jelly wrestling at the Wyverns' Garden Party is a great bit of fun and should not be cancelled. The contestants participate of their own free will and are observed by both male and female spectators who enjoy the event for what it is; harmless fun.
"To cancel this just because of a bit of complaining from people, the majority of whom have probably never attended the event is ridiculous. Male or female show your support for this and support freedom of expression in all its forms. In the quest for sexual equality men's jelly wrestling should also take place."
As of Thursday, the petition had more than 1,000 signatures but the Wyvern society insisted it had no part to play in organising the online protest.
"However, we'd like to give a massive thank you to all of our loyal guests for your continued support during this bereavement period! We will not let you down!"
At the time of creating the first anti-jelly wrestling protest, Hanika told HuffPost UK: "As a first year, I was shocked to arrive at Magdalene and hear about this element of the garden party. I had envisioned Cambridge as an intelligent, progressive, institution which, in many parts of life, I have found it to be but this event stands as an outdated bastion of sexism that has no place in the 21st century.
"The general response I have received from the student body has been overwhelmingly positive. I think most of those who did know about it previously felt very uncomfortable with the idea, and those who didn't have been made aware through my campaign and have been shocked and disgusted by the knowledge that the concept of a female jelly-wrestling competition could exist as entertainment."
Cambridge Union's women's society has been contacted for comment but has yet to respond.