Nigel Farage has condemned the protesters who confronted him on the streets of Edinburgh, forcing him to take refuge in a pub.
Security officials took Mr Farage into the Canon Gait pub away from the angry demonstrators where he stayed until he was bundled into a police van and driven away from the scene. Nigel Farage talks to protesters in the Canon Gait pub
On Friday, he took to the airwaves to denounce the demonstrators, linking their actions to elements within Scottish nationalism which he described as "akin to fascism".
Speaking to Radio Scotland's Good Morning Scotland programme, Mr Farage said: "The idea that Ukip is some kind of horrible, nasty, anti-immigrant, racist party is not something that was evident to the rest of the country, but of course that wasn't what it was all about.
"It was a demonstration dressed up as being anti-racism but in fact in itself was deeply racist, with a total hatred of the English and a desire for Scotland to be independent from Westminster. I mean, my goodness me, if this is the face of Scottish nationalism it's a pretty ugly picture.
"The anger, the snarling, the shouting, the swearing was all linked in to a desire for the Union Jack to be burnt and extinguished from Scotland forever. There's absolutely no doubt who these people were or what they stood for."
He added: "I must say I have heard before that there are some parts of Scottish nationalism that are akin to fascism but yesterday I saw that face-to-face.
"Either the Scottish media have got to start reporting the truth about some of the extremes of the independence movement or not, but it's about time they did."
Asked on BBC Radio Four's Today programme if he thought the SNP leadership were directly implicated in yesterday's events, Mr Farage said: "No, but these people were supporters of Scottish nationalism and virulently opposed to the English."
He added: "I would like to hear Alex Salmond come out and condemn that type of behaviour and I challenge him today to do that." Edinburgh police give the Ukip leader an escort away from the protesters
Two men were arrested after the protest and Mr Farage was escorted from the scene "to ensure his safety", Police Scotland said.
The protest was organised by Radical Independence Edinburgh who called an 'emergency protest' on their Facebook page earlier on Thursday. A spokesperson told the Huffington Post UK: "Farage came up to Scotland to spread his racism and bigotry here - we showed he's not welcome.
"His party UKIP have always achieved a derisory vote in Scotland but Farage thought that could change after their recent local elections successes in England.
"In 2014 we finally have the chance to get rid of the political system at Westminster that pours fuel onto the bigoted fire of Farage and UKIP. Scotland wants to be a country that welcomes immigrants - but we need independence to make that desire a reality."
A spokesman for the pro-independence campaign group Yes Scotland said it condemns all forms of intimidation.
"We had no knowledge or involvement in any of the scenes on the Royal Mile during (Mr Farage's) visit to Edinburgh," he said.
"Yes Scotland continues to run a positive campaign and we condemn any and all forms of intimidation."
An SNP spokesman said: "Anyone who heard the interview with Nigel Farage on BBC this morning would have thought he has completely lost the plot."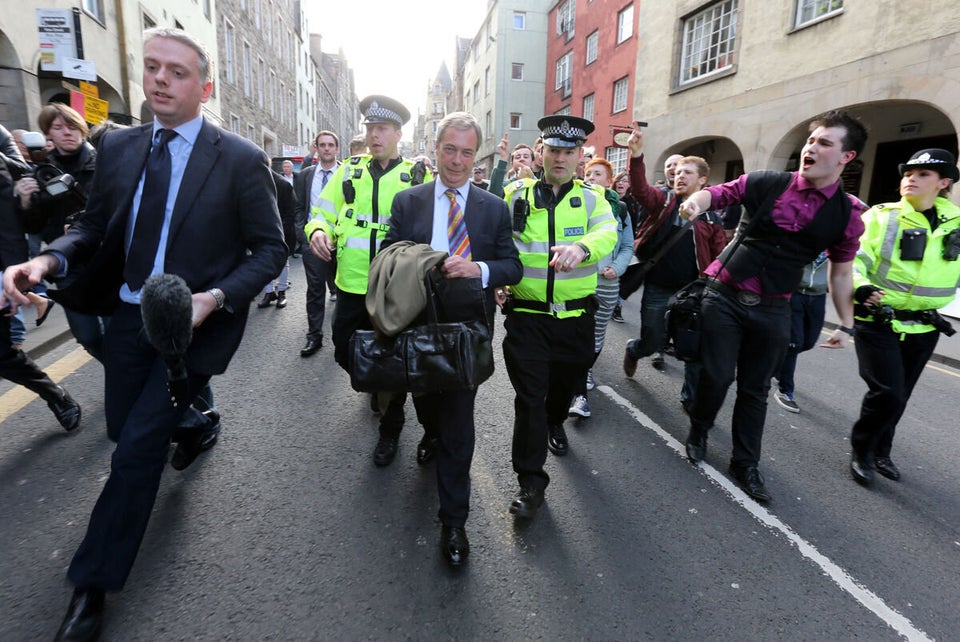 Nigel Farage Press Conference Edinburgh
Related