The introduction of bedroom tax has seen the number of people claiming extra handouts from councils to meet housing costs soar, figures have revealed.
More than 25,000 people applied for discretionary housing payments (DHP) to help cover their rent in April, compared with 5,700 in the same month last year, according to an analysis of 51 councils by The Independent.
Councillor John Cotton, cabinet member for equalities, told the newspaper: "It's a situation like the 1930s here in Birmingham.
"We are a city that has a hill to climb in terms of deprivation. With the impact of changes like this, the hill just got even steeper. It's putting more and more pressure on vulnerable communities."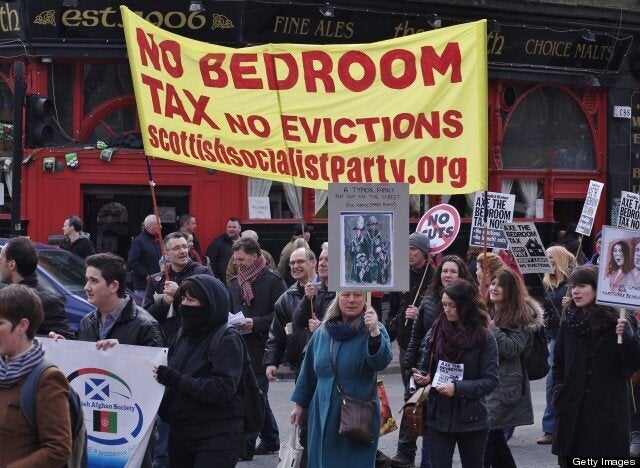 Some have insisted the bedroom tax unfairly discriminates against the disabled
Birmingham saw the number of DHP claimants rise from 496 in April last year to 2,601 last month, and the city council reported that many of those hit by the welfare reforms were turning to "last-resort services" such as food banks.
The government has substantially increased the DHP funding pot for local authorities to help those most affected by the withdrawal of what ministers call the "spare room subsidy".
A Department of Work and Pensions (DWP) spokesman said officials were "monitoring" the situation to ensure that those who needed support received it.
The new regulations, introduced on April 1, led to reductions in housing benefit payments to social tenants assessed to be under-occupying their accommodation.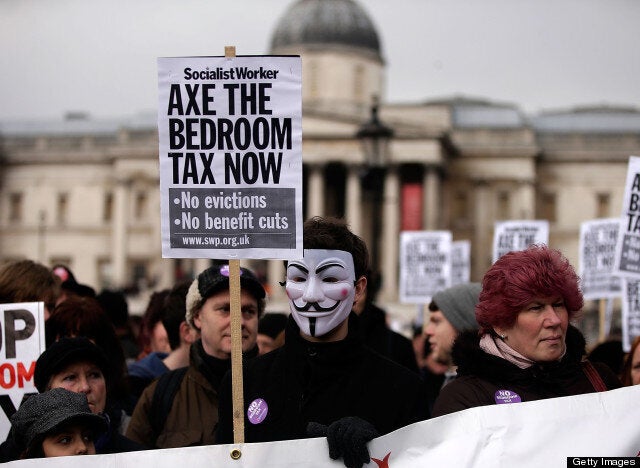 There have been widespread protests throughout the country
Under new ''size criteria'', tenants with one spare bedroom have had a payment reduction of 14% and those deemed to have two or more spare, a reduction of 25%.
The Independent reported that in some areas the influx of people seeking help had forced councils to hire extra staff to cope with applications and advise tenants.
Glasgow saw the highest number of claimants of any council in the country, with 5,501 claims for help.
A DWP spokesman said: "We are giving councils £150 million this year so that they can help their vulnerable residents and we are monitoring this spending closely to ensure support goes to those who need it.
"The spare room subsidy changes will bring fairness back to the system - when in England alone there are nearly two million households on the social housing waiting list and over a quarter of a million tenants are living in overcrowded homes."
The spokesman also said that it was possible the increase in claimants in April represented a "peak" as people sought funding to cover them for an entire 12 months.
Related