An anti-extremism organisation has blamed "inaccurate" newspaper headlines for creating a public backlash in which the group was accused of leading a "witch hunt" against Muslim students.
But now Student Rights has accused the media of misreporting, saying it had "simply highlighted" information. Links to all the articles in question are linked from the organisation's website (see below image).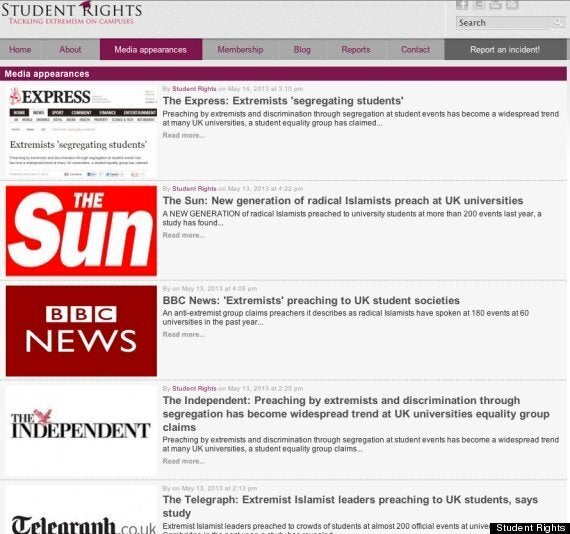 Despite criticising newspapers' coverage of the report, Student Rights has published them on its website.
The group released a statement which read: "At no point did we try to claim that our figures were representative of all student events, and those... who have an issue with inaccurate headlines should remember that for many media outlets the temptation to round up to the nearest exaggeration is often difficult to resist.
"This is not the fault of Student Rights, and to use this fact to attack our work without responding to the fact that some universities are allowing discrimination to take place on their campuses is the height of intellectual dishonesty."
In the report's conclusion, the group, directed by the Commentator's executive editor Raheem Kassam, says: "The fact that such a large percentage of the events logged by Student Rights during this timeperiod either explicitly advertised events as segregated by gender or implied that this would be the case underlines claims that events highlighted are not 'isolated incidents' but rather form a part of a wider, discriminatory trend on UK university campuses."
Aked raised her concerns about Student Rights drawing a link between extremism and segregation after Kassam told HuffPost UK: "This report neither aims to, nor does it, demonise Muslim students, it seeks to protect them from extremism, in this case in the form of segregation."
The Bath student, who is researching the pro-Israel lobby, says: "Because of its erroneous claim that it does not conflate segregation and extremism, Student Rights has been forced to blame the media for the coverage resulting from its report which the organisation admits contained 'mistakes' and 'inaccurate headlines'.
"They attempt to absolve themselves of responsibility."
Kassam has publicly verbally attacked Aked, tweeting:
Kassam has now blocked Aked on Twitter, telling her: "Done with you thanks," and calling her a "hilbilly". Kassam also denied involvement with the response published by Student Rights, saying: "I didn't write that. It's not MY claim, it's the organisation's claim."
Several media outlets have also been criticised for the interpretation of the report. Aked maintains the Times report linked segregation and extremism.
Nico Hines, author of the Times article, wrote:
"Radical and intolerant Islamist leaders preached to crowds of students at almost 200 official events in the past year, according to a study of external speakers at universities including Cambridge, Birmingham and University College London.

"Segregated seating for male and female students is understood to have been implemented for at least a quarter of those public meetings held by the Islamic societies at 21 universities.

"Two institutions have announced investigations into segregated meetings. But research by Student Rights, which was set up to tackle extremism on campus, indicates that the practice is prevalent across Britain, despite university equality rules forbidding it."
Aked says she has asked Hines if the story he wrote was pitched by Student Rights as an "extremism story" or whether this was the angle taken by the newspaper, but has yet to receive a reply.
The second paragraph of the quoted Times article has since been changed to replace "the public meetings held by the Islamic societies" to "those public meetings," although a correction notice has not been issued by the newspaper.
Aked adds: "Sadly, Hines declined to say that the paper would print a correction or clarification, despite the fact that the error in the first edition will have grossly misled thousands on this highly sensitive issue and even though the second edition still lends that 'one quarter' figure a meaning and significance it does not deserve given the methodological flaws previously exposed. One wonders whether, without the 'typo' in the original version, the story would have been front page news at all."
Hines was also reprimanded by Hamza Tzortis, who he describes as "one of the most prolific of these radicals.. a compelling and good-looking young speaker.. the former member of Hizb ut-Tahrir".
Tzortzis has now said he would be looking at legal action if the article is not corrected. "This is lazy journalism, and may indicate an intent to malign," he told HuffPost UK. "I repeat, all of these issues were clearly clarified on my website.
"We are in contact with the Press Complaints Commission and our lawyers, we have been advised that we have a case on the basis of accuracy, defamation and unfair reporting. However, I just want Nico and The Times to retract or change the article in light of my clarifications which were already available on my website before they published the piece.
"What highlights their lazy journalism is that Nico admitted publicly to have gone to my website but somehow missed the clarifcations page. My main concern is establishing positive relationships with the press regardless of wrongs."
Following the piece in the Times, Tzortzis emailed every student union in the UK to "clarify and ease the situation". The full text of that email can be read below.
A spokesperson for the Press Complaints Commission (PCC) said: The PCC has received one complaint about the [Times] article headlined: Extremists preaching to students in Britain on which it is seeking further information from the complainant before being able to consider the matter further under the Editors' Code."
A Times spokesman told HuffPost UK: "The complaint has been drawn to The Times ombudsman and we are happy to run a clarification on the story.
cc: National Union of Students, FOSIS
"May the peace and blessings of God be upon you all.
"My name is Hamza Andreas Tzortzis, and as many of you may know, I deliver lectures on the invitation of Islamic Societies (iSocs) at a myriad of Universities across the UK and abroad. For example, this year during the Islamic Awareness period, I delivered lectures at 24 universities in the UK. My experience during these lectures has been very positive. I have positively engaged with many students from various backgrounds, and due to the nature of the topics that I speak on, the discussions have been nuanced and intellectually demanding. I really enjoy speaking to students, and the topics I focus are based on the rational foundations of Islam, which includes God's existence, the Prophet-hood of Muhammad (upon whom be peace) and the Divine nature of the Qur'an.
"The main reason for this email is to firstly thank you from the depths of my heart that most of you have facilitated my presence on campus and have defended my right to speak - even though some of you may have received pressure from a some people to prevent or bar myself from speaking on campus. Secondly, I want to take this opportunity to clarify some of the issues that people have raised as a justification to prevent myself from speaking on campus. These include:
1. Past affiliations with Hizb ut-Tahrir
2. Views on Homosexuality
3. Views on Freedom of Speech
4. Views on Gender Segregation
5. Views on Violence and Terrorism
"I have a dedicated page on my website that clarifies all of these issues, and should you wish to read it for yourself, please access the link here.
"However I would like to summarise my clarifications in this email. Concerning my past affiliations with Hizb ut-Tahrir, I used to be a member 5 years ago, but left the group due theological and spiritual reasons, and felt the narrative of mainstream Muslims to be more powerful and in line with the spirit of Islam. On homosexuality, I do not advocate hatred, discrimination or injustice towards the LGBT community. I have been very clear about this at many campuses this year, notably the University of Nottingham. Regarding freedom of speech, I have changed my views that I held 5 years ago. I do not reject freedom of speech, to do so would be self defeating. On gender segregation, I have not been involved in the enforcement of gender segregation. My position on this issue is to advocate a more tolerant position that all choices should be offered. If some women regardless of religious background wish to sit with women only, that should be accommodated if possible. My views on violence and terrorism are very clear. I categorically condemn all acts of terrorism, whether committed by individuals or states, regardless of religious or political affiliation. Killing innocent human beings is a heinous act, so much so that God in the Qur'an has explained to us that killing one innocent human being is tantamount to killing the whole of humanity: "…it is as if he kills all mankind, while if any saves a life it is as if he saves the lives of all mankind." [Qur'an 5:32]. The Scholars unanimously agree that our duty in this country is to live peacefully as compassionate engaged citizens and to humbly provide a sense of moral leadership.
"I hope many of the issues raised concerning myself have been clarified. There has been a recent campaign by Student Rights, who I believe are a neo-conservative backed group, to slander and defame myself. A recent article in The Times raised many of the issues above. I have written a reply, and I am considering legal action. Here is a link to the reply.
"Thank you once again, and if you feel it is necessary to forward this email to other relevant parties, please feel free to do so.
"If you have any further concerns or require further information please do not hesitate to contact myself at any time.
Popular in the Community