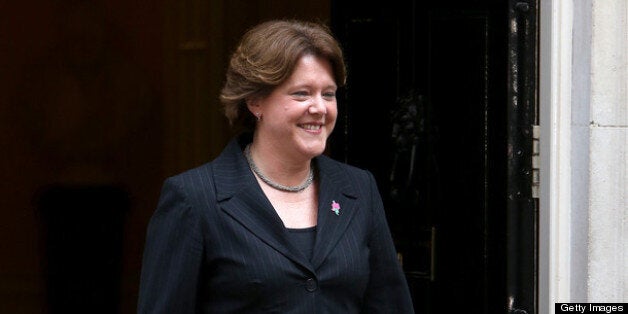 David Cameron suffered a further blow to his authority on Tuesday evening as a majority of his own MPs once again refused to support plans to introduce gay marriage, forcing the prime minister to rely on the Labour Party to get his bill through the Commons.
The Marriage (Same Sex Couples) Bill easily received its third reading by 366 votes to 161 - a majority of 205. However 133 Tories voted against the legislation with 117 voting in favour.
Environment secretary Owen Paterson and Welsh secretary David Jones joined several other Conservative ministers including three defence ministers, transport minister Simon Burns and John Hayes (the prime minister's envoy to the backbenches) in voting against gay weddings.
Culture secretary Maria Miller, who had the difficult job of piloting the bill through the Commons and past more than half of her own backbenchers, said the party should be "proud" of bringing in gay marriage.
"We will look back on the passage of this bill as we now look back on the introduction of civil partnerships. We will be in no doubt that equal marriage is right and we will be proud that we made it happen," she said.
Miller's message may well have been aimed at several Tory MPs who voted against civil partnerships when they were introduced in 2005 - but have since changed their minds.
Recognising the wounding split the bill has opened up in the party, she added: "Let us make equal marriage possible because it is the right thing to do, and then, let us move on."
Having secured its third reading, the bill will now be scrutinised by the House of Lords - where its opponents hope to still be able to kill it off.
Cameron has come under intense pressure from backbench MPs and grassroots party activists to drop the bill. Former Conservative cabinet minister Norman Tebbit told the prime minister he had "really fucked things up" by changing the law on marriage as it would open up the possibility of a lesbian queen and fathers marrying sons.
Yvette Cooper, the shadow equalities minister, said MPs should be pleased they were able to deliver for gay couples who wanted to get married as Labour sought to take credit for the passage of the bill.
In February, 136 Tories voted against the bill's second reading while 127 voted in favour. In total the bill passed 400 votes to 175 - a majority of 225 - but it needed Labour and Lib Dem support to overcome Tory opposition.
Highlighting the necessary role Labour played in getting the bill through both then and now, Cooper encouraged anti-gay marriage Tory MPs to "stop talking abot the anger and start talking about the joy". And she dismissed objections that gay marriage would in any way impact on heterosexual couples.
"The idea that two brides tying the knot says anything about their neighbours next door is simply ludicrous," she told the Commons. "It's not a definition it's a discrimination."
Writing for The Huffington Post UK on Tuesday, Ed Miliband said Cameron was being pushed around by his "backward" MPs.
"This week we have watched the prime minister looking desperately over his shoulder at the MPs behind him over the issue of same-sex marriage," he said.
Former Tory police minister Nick Herbert, the leading pro-gay marriage backbencher, said the bill "will do no harm but a very great deal of good by celebrating love and commitment". He added that his Tory colleagues who opposed the move would be shown to be wrong in time, just as those who opposed the decriminalisation of homosexuality had been.
Fellow Tory Charles Walker, who supported the bill, enthusiastically told MPs: "I didn't come into politics to be defined by what I am against, I ame into politics to be defined by what I am for." He added: "Tonight is a good night."