Michael Douglas became emotional this week in Cannes, tearing up as he thanked his co-star and director for waiting for his recovery from cancer before they filmed their Liberace biopic.
WATCH: Michael Douglas Makes A Heartfelt Thankyou To Matt Damon And Steven Soderbergh
The Oscar-winning actor joined forces with Matt Damon and Steven Soderbergh to present their film, 'Behind the Candelabra', to audiences at the Film Festival, where it has gone down a storm with the critics.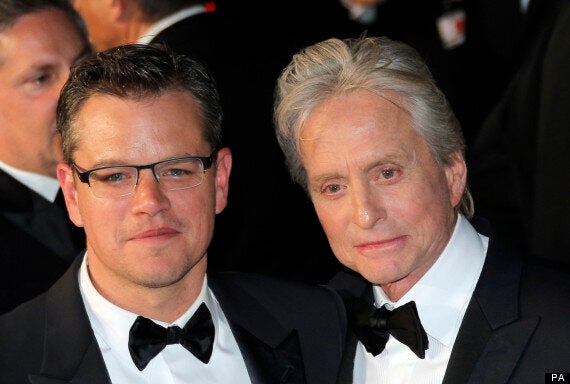 Both Matt Damon and Michael Douglas's performances in 'Behind the Candelabra' have been well received
The HBO-financed film tells the story of the relationship between longtime Vegas favourite and global over-the-top celebrity Liberace (played by Douglas) and his younger partner Scott Thurson (Damon).
Thurson is introduced into the whirl of Liberace's exotic inner sanctum, with the jewels, the firs, the small dogs, but also to the price he has to be pay to be on the arm of one of the world's most outrageous figures - including undergoing plastic surgery, at his partner's request, to resemble a younger version of Liberace himself.
Although the relationship lasted several years, it was kept away from the public until Liberace's death in 1987, attributed at the time to cardiac problems, and not complications from HIV, which he also kept secret.
Both Damon and Douglas have been heralded for their committed performances (WATCH Damon below on dealing with the "jarring nudity"), with Douglas in the frame for one of Cannes' awards later in the week.
'Behind the Candelabra', which is not eligible for Oscars because it is being presented as a TV movie in the States, will be released in cinemas in the UK from 7 June. Watch the trailer below...