Phil Neville has said he is "prepared" to replace David Moyes as Everton manager, should chairman Bill Kenwright offer him the role.
Neville, whose eight-year spell with the Toffees ended this season, will be a part of Stuart Pearce's England Under-21s coaching staff at next month's European Championship and has hinted he may move into coaching immediately.
Although the former Manchester United full-back expressed a desire to continue playing when he first announced he would leave Goodison Park in April, Neville has effectively confirmed his retirement from playing.
When asked about the prospect of succeeding Moyes, he was enthusiastic.
Six Men Who Could Replace David Moyes At Everton
"It is flattering to be linked with the Everton job," he told the Times. "There is a structure in place where the new man who comes in will not have that much to do. I am at the end of my career and I am looking to get into coaching and management. It's just whatever direction the club want to take.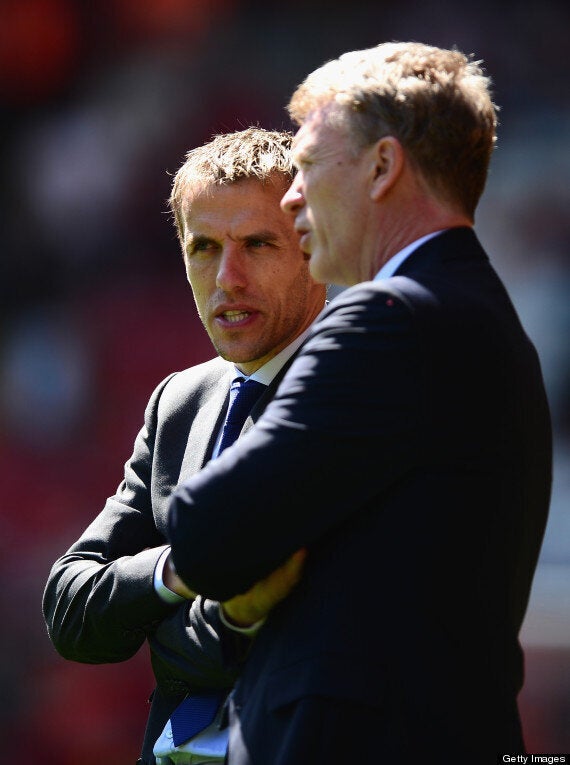 Neville and Moyes at Anfield earlier this month
"It would be a good job. But I know there are players who have gone into jobs and failed. I have prepared. I have prepared for the last five seasons and I have some nice decisions to make.
"I have had a lot of experience, studying coaching practices. I have been away with England Under-21s. I'm half-prepared for what I'm going into."
Neville is adamant his former club had made the right appointment in choosing Moyes as Ferguson's successor at United.
The duo are the only club managers Neville has ever played under, and he lauded Moyes as "the best candidate" whose longevity, in comparison to José Mourinho's ephemeral stays, was pivotal in him heading for Old Trafford.
"You can put him alongside any coach in the world for that job," Neville stressed. "If José Mourinho came to Man United you would think, with his track record, that in maybe three seasons he would be gone. Man United are looking at the next 20 years. They've just given David Moyes a six-year contract.
"It is that kind of club. They invest in a certain kind of manager and that is why he is the best man for the job. There is no one else they could have invested in who would offer the same longevity.
"The pressure will always be there and he will have to win games and win trophies. He will do that. People talk about José Mourinho being the Special One but the gaffer has something special about him in his own way."