This video gives the phrase "living on the edge" new meaning – as a train squeaks tightly through a Vietnamese neighbourhood.
The footage of the locomotive passing just inches from front doors and windows in Hanoi was posted to YouTube by user captianarmstrong (aka Adam Armstrong) in February.
Armstrong, who works for an adventure based community travel company, told News Point: "In Hanoi, Vietnam, the train comes so close to the houses that many people have to bring in their scooters from outside as others leave theirs out to sit only inches away.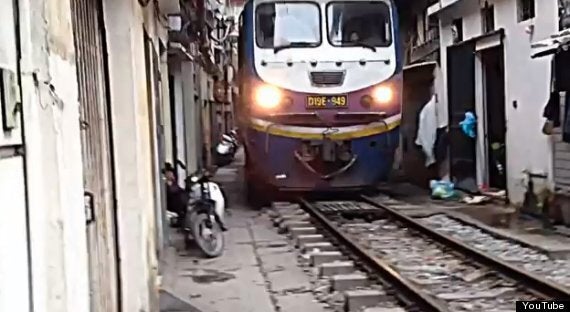 A tight squeeze: The train travels, at some speed, through the neighbourhood
"The people here know the schedule as well. At just about 4pm and 7pm every day you suddenly notice people start to file into their homes and in the front yard where kids were playing and women were cutting vegetables is suddenly replaced by rushing steel and noise."
He added: "I can only imagine how many close calls and unfortunate accidents there have been over the years, but you wouldn't be able to tell by the people living here.
"As we wandered the tracks and peeked into homes, we were met by all smiles and invitations to play with babies and share a local meal. In a place where twice a day a speeding train literarily barrels through your living room it is amazing to see the people that live here at such peace".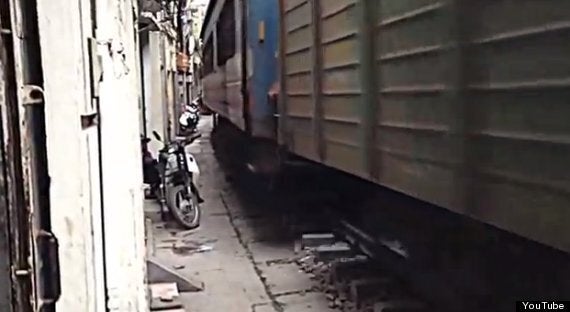 Rooms with a view: There are mere inches between the carriages and the houses