A major donor to the UK Independence Party has defended his view that woman should not wear trousers - because the Bible says it is an "abomination".
In an email to The Huffington Post UK, the former shipping tycoon, who once wrote a book on the subject, said he had been "flattered" by the publicity, but pointed out "misconceptions" in the way his comments had been reported.
"To begin with, you do not seem to be aware that the Bible states that anyone who wears the clothes of the opposite sex is 'an abomination'," he wrote.
"Is God 'absurd' or sexist?"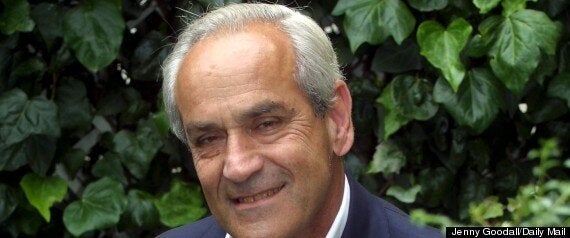 'Since the beginning of time, women have dressed to please men' Marchesseni claims
Responding to his latest comments, a Ukip spokesman said donors did not decide policy.
"We condemn his view on trousers," he added, saying he had "no idea" whether Marchessini was a party member.
In his letter, Marchessini said: "Since the beginning of time, women have dressed to please men.
"Everyone knows that. Yet, in the last 30 years, they have stopped doing so, and they are wearing clothes not on the basis of what is attractive to men, but for political reasons, in order to pretend that they are the same as men.
"They do not realise how much that turns men off."
He conceded that Marlene Dietrich, Greta Garbo and Audrey Hepburn "looked all right" in trousers, but said: "Very few women have bodies like that."
It was a "basic principle of civilised behaviour" that "everyone has the obligation to look as attractive as possible," he said.
Trousers, he said, "are no longer something that women wear sometimes, but have become something that every women wears every single day.
"That is a uniform. If you stand in the street, as I did, and count the women coming by, less than one in ten is wearing a skirt. It is a uniform.
"They know perfectly well that men do not like it, but they do it anyway."
He goes on: "Women cannot see themselves from the rear – that is a physical fact. So they are unaware how unflattering trousers look on them from the rear."
Read Marchessini's full response below:
I am very flattered about receiving so much attention from the Huffington Post. However, there are, unfortunately, a few misconceptions in your article. You say that I said "six absurd things". To begin with, you do not seem to be aware that the Bible states that anyone who wears the clothes of the opposite sex is "an abomination". Is God "absurd" or sexist? Since then, for thousands of years, until very recently, wearing the clothes of the opposite sex was considered a crime in the Western world, with severe punishment. Were all these billions of people "absurd" or sexist? A few years ago, the Pope said in a speech that "The blurring of the genders is more dangerous to the world than the destruction of all the rain forests". Is the Pope "absurd" or sexist? Here are your six points.

1. That everyone has the obligation to look as attractive as possible. This has been a basic principle of civilised behaviour since the beginning of civilisation. Do you find that absurd?

2. That women wear trousers like a uniform – they are no longer something that women wear sometimes, but have become something that every women wears every single day. That is a uniform. If you stand in the street, as I did, and count the women coming by, less than one in ten is wearing a skirt. It is a uniform. They know perfectly well that men do not like it, but they do it anyway.

3. Women cannot see themselves from the rear – that is a physical fact. So they are unaware how unflattering trousers look on them from the rear. That was the point of my book. It is a series of photographs of women in trousers from the rear.

4. Countless women are unattractive in trousers. That is perfectly obvious. Any women who is overweight looks bad in trousers, but also women who are too thin look bad in trousers. Yes, Marlene Dietrich, Greta Garbo and Audrey Hepburn looked alright in trousers, but very few women have bodies like that.

5. The more women dress like men, the less attractive they are to men. That too is obvious. What men like is femininity, just as women like masculinity. Wearing trousers makes women look more masculine.

6. Let us make clear that I never said that no men like women in trousers. Obviously everyone has different tastes. But I do not agree that 90% of men like women in trousers. They do not. Since the beginning of time, women have dressed to please men. Everyone knows that. Yet, in the last 30 years, they have stopped doing so, and they are wearing clothes not on the basis of what is attractive to men, but for political reasons, in order to pretend that they are the same as men. They do not realise how much that turns men off.

When my book came out, several men came up to me and said, "I agree with you, but I do not dare say anything". What a ridiculous situation!

Sincerely

Demetri Marchessini