Both runways at Heathrow airport have been closed after a British Airways plane had to make an emergency landing.
Heathrow said that all passengers and crew had been safely evacuated from the plane following the incident at about 9am on Friday.
British Airways said the plane in the emergency landing today was an Airbus A319 with 75 passengers on board which returned to Heathrow shortly after take-off for Oslo due to a technical fault.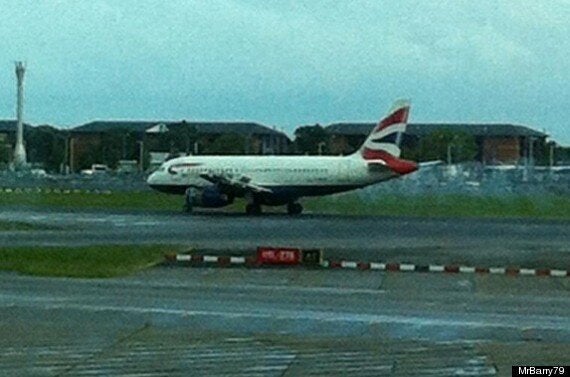 Heathrow said that all passengers and crew had been safely evacuated from the plane
There was speculation that the aircraft had run into a flock of birds.
Clive Cook, an eyewitness taking his daughter to kindergarten at around 8.45 on Friday morning told Sky News that he saw the plane's "right engine was on fire".
"I am absolutely certain as it came through the clouds, the engine was not smoking, it was actually on fire," he said.
"There was a very large change in the sound of the engine, which made me look up at the plane."
Another witness, Jamie, who saw the incident from his garden which is under the flight path, told Sky News: "The actual engine itself was on fire.
"This plane was coming over and suddenly the tone of the engine changed dramatically, and I could almost say it sounded as if it was like a blowout, or an explosion."
All passengers are believed to have been evacuated safely.
BA said the plane, with two pilots and three cabin crew aboard, had taken off for Oslo at 8.16am and had landed back at Heathrow just after 8.40am.
"The passengers are being looked after at the moment," said a BA spokesman.
The incident is being investigated by the Air Accidents Investigation Branch.
Captain Mark Searle, chairman of airline pilots' association Balpa, said: "This was a professional job done by professional people. As pilots we spend our whole career training to manage incidents such as this in order to avoid an incident becoming a disaster.
"Balpa representatives will be assisting the pilots involved in this incident and providing whatever support they need. And, as always, we will all learn whatever lessons we can."
Julian Bray, an aviation expert, told HuffPost UK: "The BA Airbus A319 but made a fully controlled emergency landing, no extensive foam carpet was laid and the emergency landing and evacuation drill carried out by the book.
"The incident initially thought to be a bird strike rather than a mechanical malfunction - but the results of the formal investigation will need to be considered before this can be confirmed.
"Commentators are also suggesting the other engine was also showing signs of damage and possibly hit by the same flock of birds possibly Canadian geese as the P&W engines would normally be able to cope with strikes by smaller bird varieties.
"The cowling off one engine seems to have lifted,, a smoked trail was seen then flames burst though in flight shortly after take off, according to in flight passenger pictures posted on Twitter and images broadcast on television news channels.
"This particular Airbus 319 has a seven year service history and was one of the first to feature computer driven 'fly by wire' navigation and control systems."
Popular in the Community