Muslim leaders at York Mosque invited members of the English Defence League (EDL) in "to talk over a cup of tea" after receiving agressive threats in the wake of the Woolwich attack.
Professor Mohamed El-Gomati, who is an elder at the mosque, told the York Press that EDL members threatened to hold a demonstration outside the mosque, angry at the Muslims worshipping there and connecting the death of Lee Rigby with Islam rather than terrorists.
The York University Professor of Electronics told the paper: "We have already condemned that in the strongest language. Every right-minded person in the UK is angry but the anger should not be at your neighbours, the anger should be at the culprits who committed this heinous crime.
"If people sat down and talked, they may come to common, shared ground rather than shouting from a distance and not hearing what the other person is saying.
"Rather than have a shouting match outside we have invited people in to have a discussion and show solidarity over a cup of tea with us and see exactly what we are doing to dispel any myths. There is nothing better than knowledge."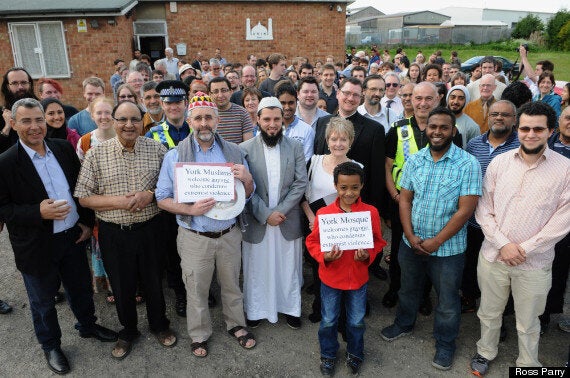 The Mosque decided to hold an open day
Around 100 people came and spoke with members from the Mosque, however a small number of EDL demonstrators remained outside, the paper reported.
The meeting comes after a mosque in Grimsby was targeted by what CCTV appeared to show were petrol bombs, the second attack in a week. No one was hurt in the ensuring blaze and two people have been arrested for arson. The serious attack came after a brick was thrown through a window last week, shattering a pane of glass that fell onto a sofa below.
A 43-year-old man has been charged with attempted arson after reportedly walking into a mosque with a knife in Braintree, Essex.
A second man, Andrew John Grindlay, 45, was charged with religiously aggravated criminal damage and burglary after an attack on a mosque in Gillingham, Kent.
Mosques in Bolton and Cambridge have also been graffitied, and countless others threatened, Tell Mama, the charity which monitors anti-Muslim attacks, said.
It reports that there have been ten mosques attacked since Wednesday and 193 anti-Muslim incidents.
A vile slogan was painted close to Mitcham Junction station, which read "Hell 2 Muslims EDL" . Merton council said the graffiti has already been removed.
"Muslims at this moment are feeling a real and pervasive sense of fear, particularly Muslim women who fear going out and this is compounded when husbands suggest that they will undertake activities like shopping for them," Fiyaz Mughal of Tell Mama told HuffPost UK.
Related