The Help for Heroes charity says it will not accept any funds raised from a sponsored walk by the leader of the English Defence League.
Tommy Robinson plans to walk "just over 17 miles" from Westminster to Woolwich in London in June to raise money for the servicemen's charity.
On his fundraising JustGiving page, Robinson said he planned to lay a wreath at Woolwich where soldier Lee Rigby was murdered last Wednesday.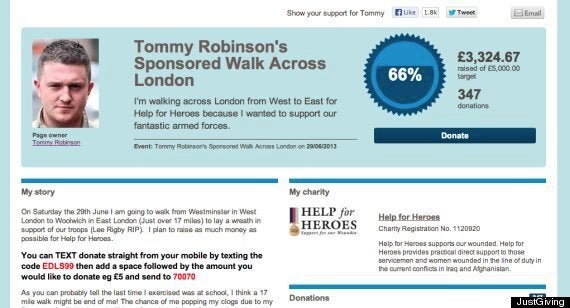 Robinson plans to walk from Westminster to Woolwich
Over £3,000 has been raised so far - but a Help for Heroes spokesman confirmed to The Huffington Post UK that the donations would not be accepted.
"We don't accept any money from political parties," he said.
Although the EDL is not a formal political party that contests elections, the charity was clear any funds raised would not be accepted.
It came after thousands of EDL supports converged on Whitehall for a demonstration, with a large gathering of anti-fascists taking part in a counter-protest.
Protesters chanted "Muslim killers off our streets" and "There's only one Lee Rigby" holding placards that read "Blood on your hands" and "GB RIP".
They were also heard chanting "We hate David Cameron".
Related