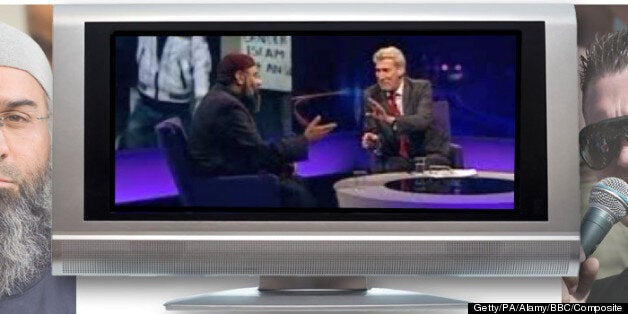 Campaign group Liberty has warned against a broadcast ban on hate preacher Anjem Choudary.
Shami Chakrabarti said politicians had to be "very careful" about censoring people because of their "disgusting and extremist" views.
It comes after Home Secretary Theresa May hinted that watchdog Ofcom could have a beefed-up role in who appears on the airwaves.
May told the BBC: "One of the issues we need to look at is whether we've got the right processes, the right rules in place in relation to what is being beamed into people's homes."
Sinn Fein politicians were banned from broadcasts during the Troubles in Northern Ireland during the 1980s. Choudary appeared on Newsnight and Channel 4 News
On Monday, Chakrabarti told the World at One: "We have to be very careful about political heat on broadcasters."
She said: "You criminalise speech when it crosses the line into inciting violence and murder. When it's just bad taste and extremist views I think the future is about taking it on in heated debate.
"If people are making editorial mistakes then we have a debate about that. But we don't want politicians censoring the media."
Tory MP Bob Stewart, a former colonel in the British Army, told the same programme Choudary should be banned but stopped short of calling for a wider prohibition on extremists.
He said: "I think we should consider actually banning this individual but not necessarily others."
Stewart said Choudary was clever and "knows exactly the limit up to which he can go without being illegal."
The vast majority of people who watch him would dismiss his views, Stewart said, but he added: "Someone might say, 'you know what, he has a point', and I don't like that."
In a poll by the British Futures thinktank, 59% said Choudary and other extreme Islamists should not get a media platform on the TV news, while 30% said they should appear so their views could be scrutinised.
There were similar results for the English Defence League, with 49% saying the group should not get a media platform, and 38% saying they should do so their views are scrutinised.
Another Conservative MP, Mark Reckless, said a blanket ban on extremists like Choudary and EDL leader Tommy Robinson should be a "last resort rather than the first response".
But Reckless, a member of the Home Affairs Select Committee, said it was a mistake to give a platform to Choudary following the Woolwich attack.
"I think to give that particular individual the sort of platform you gave was a mistake. Whether we go further and there's a role for government, as with Sinn Fein in the 1980s, I think that is harder but it is certainly something the Home Office is considering.
"I think that's sensible to at least look at the arguments but I do think in the meantime it's very important for broadcasters to exercise proper editorial judgment."