Three British Christians who claimed their religious rights were violated by employers have been told by Europe's most senior judges that they could take their rejected cases no further.
Shirley Chaplin, Gary McFarlane and Lillian Ladele saw their discrimination claims rejected by the European Court of Human Rights in Strasbourg earlier this year.
The Christian Legal centre, which represents McFarlane and Chaplin, told HuffPost UK this "looks like the end of the road" for the cases.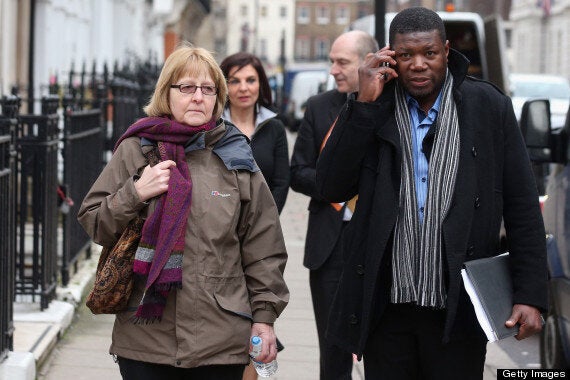 Nurse Shirley Chaplin (L) and marriage counsellor Gary McFarlane (R)
The claimants attempted to take their appeals to the Grand Chamber of the Court but the judges have rejected their request.
Chaplin was switched to a desk job after she refused to take off a crucifix which hung round her neck, while Ladele was disciplined by Islington council for refusing to conduct civil partnership ceremonies.
McFarlane was dismissed from his role with the charity Relate after indicating he might have a conscientious objection to providing therapy to a same-sex couple.
Chaplin's claims were rejected on the grounds that the removal of her necklace was necessary to protect the health and safety of nurses and patients.
Appeals by Ladele and McFarlane were dismissed on the grounds that disciplinary proceedings against them were justified.
"This is a very disappointing day," she told HuffPost UK. "We expect to be very busy indeed in the coming months, because we foresee many, many more cases like these, especially if the government succeeds in redefining marriage. It means people of good conscience, like Gary and Shirley, are effectively excluded from the public sphere."
"Britain is seen as a bastion of equality but it is a fallacy, and people will realise this, and we will be known as a country which censors Christian views," she continued.
"It can lead to state oppression, punishment and persecution. Because we're British, we think that can't happen here but it can."
The ruling stated that both Islington council and Relate were bound by duties not to discriminate against their clients and meant they could not support staff who refused to work with homosexual couples.
Keith Porteous Wood, executive director of the National Secular Society, said: "Fortunately, Europe's highest court has now wisely followed numerous lower courts and rejected the applicants' attempts for religious conscience to trump equality law.
"The UK has the world's most comprehensive equality laws which already include strong protection for religious believers and they would have been fatally compromised, particularly for LGBT (lesbian, gay, bisexual, transexual) people had the Grand Chamber overturned any of these judgments.
"We hope that this will now draw a line under the attempts by a small coterie of Christian activists to obtain special privileges for themselves which would invariably come at the expense of other people's rights.
"The principle of equality for all, including for religious believers, is now established and they should stop wasting the time of the courts with these vexatious cases."
Eweida, a Coptic Christian, was sent home from work for displaying a small silver crucifix during her job as an airport check-in attendant for the airline.
The Strasbourg court ruled the decision to express her faith warranted protection under the European Convention on Human Rights and Eweida been discriminated against under freedom of religion laws.