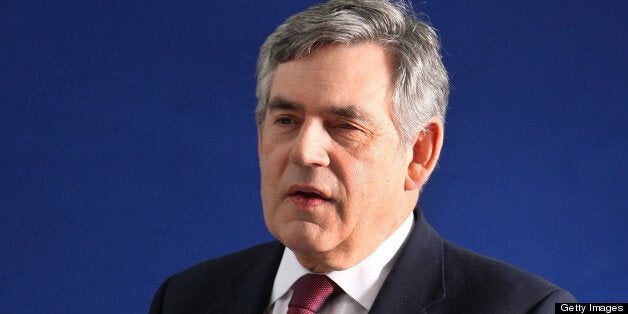 Gordon Brown is often attacked for wasting money during his time as chancellor and prime minister, however according to his office he has spent his time since leaving Downing Street putting his earnings to good use.
In the past year Brown has generated £1.37m from speeches and writing, but rather than pocketing the cash his office claim it has all been given directly to charity or to fund charitable work.
A spokesman for Brown said: "Mr Brown personally does not receive a penny from speeches or writings. He has thus no 'second income' and does not benefit from 'outside earnings'. All the fees from speeches and writings are not paid to him and all the money goes directly to charity or to fund charitable work by himself and his wife.
"Mr Brown's only income is his salary as an MP, because he has also renounced the pension conventionally paid to all former prime ministers."
Brown's reported earnings since leaving office also pale in comparison to Tony Blair, who is believed to have amassed a multi-million pound fortune since quitting Downing Street in 2007.
According to reports Blair has made £80m since stepping down to allow Brown to take over - including making £20m advising businesses and foreign governments.
Earlier this year the Daily Telegraph reported that Blair had set up his own stock market trading desk at his Mayfair headquarters with five employees having registered with the Financial Services Authority.
The former prime minister is also said to have been hired by Albania's opposition leader, who is expected to win the upcoming election, to advise him on how to lead his country into the European Union.
According to analysis by The Guardian, MPs declared earnings of more than £7 million in the Commons Register of Interests from outside jobs and directorships in the last session of Parliament.
Some 295 of the 650 MPs declared some form of income, and 20 made more money outside Parliament than their MP's salary of £65,738. The total declared by Conservative MPs came to £4.3 million and by Labour MPs £2.4 million - more than half of it accounted for by Mr Brown, who listed a string of speaking engagements around the world.
Under parliamentary rules, MPs are allowed to take on outside work, including company directorships and consultancies, so long as all income is declared in the Commons register and their work does not involve lobbying Parliament.
Other top earners included Conservative MP for Sleaford and North Hykeham Stephen Phillips, who declared £740,000 from work as a barrister. Mr Phillips told The Guardian that his outside work helped him keep in touch with "the real world", adding: "What matters is whether or not I do my job as an MP and how well I do it."
Tory MP for Torridge and West Devon Geoffrey Cox declared £417,000 from work as a barrister, Conservative MP for Mid-Sussex Nicholas Soames £305,000 from directorships and consultancies, former defence secretary Sir Malcolm Rifkind £276,000, Labour's former chancellor Alistair Darling £263,000, Tory MP for Wokingham John Redwood £238,000 and Labour's ex-home secretary Jack Straw £183,000.
CORRECTION: An earlier headline on this story incorrectly labeled Gordon's Brown's income. He generated £1.37 million from speeches and writing.
Popular in the Community