William Hague has hailed the EU's "right decision" to end the embargo on supplying arms to opposition forces in Syria, despite fears from British politicians weapons could fall into the wrong hands.
Hague, who had led efforts for the restrictions on weapons to be relaxed, said "no immediate decision" would be made on sending arms to rebels fighting Bashar Assad's regime.
Following a marathon meeting in Brussels last night, Hague said lifting the embargo was "necessary and right" but insisted the Government's focus remained on ensuring successful peace talks at Geneva next month and a "political transition" in Syria.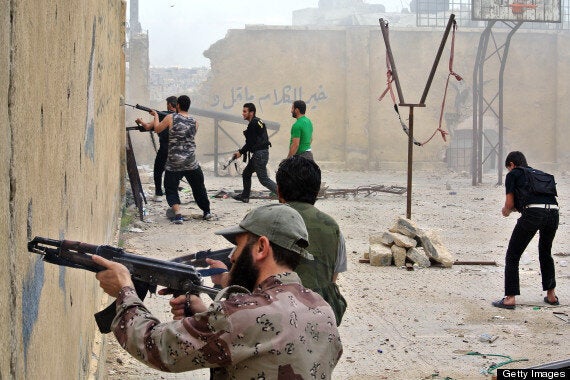 Rebel fighters fire at government forces in the northern Syrian city of Aleppo
But former Liberal Democrat leader Sir Menzies Campbell, a member of the Commons Foreign Affairs Committee, said the decision was "gesture politics on a grand scale" that "we may live to regret".
He added: "The UK has helped to divide the EU, no matter what is being claimed to the contrary.
"Sooner or later weapons will be sent to the Syrian opponents of Assad with no prospect that he will be persuaded to change his stance or any guarantee that such weapons will not fall into the hands of extremists who care nothing for democracy or human rights."
The EU's arms embargo was due to expire at the end of the month and talks appeared to have faltered earlier on agreeing a new common position for the 27 member states.
Hague said: "Tonight EU nations agreed to bring the arms embargo on the Syrian opposition to an end. This was the outcome that the United Kingdom wanted.
"It was a difficult decision for some countries, but it was necessary and right to reinforce international efforts to reach a diplomatic solution to the conflict in Syria.
"It was important for Europe to send a clear signal to the Assad regime that it has to negotiate seriously, and that all options remain on the table if it refuses to do so. Tonight EU nations have done just that.
"The other elements of EU sanctions on the Assad regime will be retained. EU nations also agreed a common framework for those member states who, in the future, may decide to supply military equipment to the Syrian National Coalition.
"These agreed safeguards would ensure that any such equipment would only be supplied to the National Coalition, for the protection of civilians.
"This does not mean that we have made any decision as the United Kingdom to send arms to the National Coalition, but we now have the flexibility to respond in the future if the situation continues to deteriorate and if the Assad regime refuses to negotiate.
"Thousands of lives are at stake in Syria. Our focus remains on efforts to secure a successful outcome at the forthcoming Geneva conference, and a political transition that ends the conflict, allows refugees to return to their homes, and prevents further radicalisation in Syria."
France's foreign minister Laurent Fabius claimed there were fresh indications that chemical weapons had been used in the conflict.
He said there were "stronger and better substantiated indications of the local use of chemical arms".
The Foreign Affairs Council declaration issued after the meeting said member states such as the UK who wished to supply arms would have to ensure "adequate safeguards against misuse" including "relevant information concerning the end-user and final destination of the delivery".
No arms shipments can take place yet but the Council will review its position before August 1 on the basis of a report by EU foreign policy chief Baroness Ashton, following consultation with UN Secretary General Ban Ki-moon, on developments in the US-Russia peace initiative and on the engagement of the Syrian parties.
Tory MP John Baron had earlier warned that increasing the amount of weapons in Syria could be "a mistake of historic proportions", triggering a wider conflict across the Middle East.
Baron told BBC Radio 4's PM programme: "It beggars belief, the idea that ... pouring more arms into this conflict could not or would not escalate the violence. Of course it's going to do that.
"But it could do something more dangerous, that is it could escalate the conflict beyond Syria's borders. That is why it could be a mistake of historic proportions."
Anna Macdonald, head of arms control at Oxfam, warned that supplying weapons would mean "adding fuel to the fire" in Syria.
She told BBC Radio 4's Today programme: "We are concerned that supplying arms to the opposition won't level the playing field, in fact it will fuel a deadly arms race that will have even worse consequences for civilians.
"The millions of people suffering in Syria right now don't need more arms, they need aid."
Shadow foreign secretary Douglas Alexander said: "How would the Government prevent British-supplied weapons falling into the wrong hands, and how does supplying weapons help to secure a lasting peace?"
UN High Commissioner for Human Rights Navi Pillay said atrocities were being committed by both sides in a conflict which left her with a feeling of "utter dismay".
She said she was "extremely concerned" at reports suggesting that hundreds of civilians have been killed or injured, and thousands may remain trapped, by indiscriminate shelling and aerial attacks by government forces in Qusair.
But she also warned of atrocities being carried out by rebel fighters: "Wanton human rights violations are also being committed by anti-government groups.
"Accounts gathered by our monitoring team suggest that armed groups have apparently used civilians as human shields and that abductions are increasing.
"The accounts include allegations that certain opposition groups have forced young women and minor girls to marry combatants.
"We continue to receive reports of anti-government groups committing gruesome crimes such as torture and extrajudicial executions."