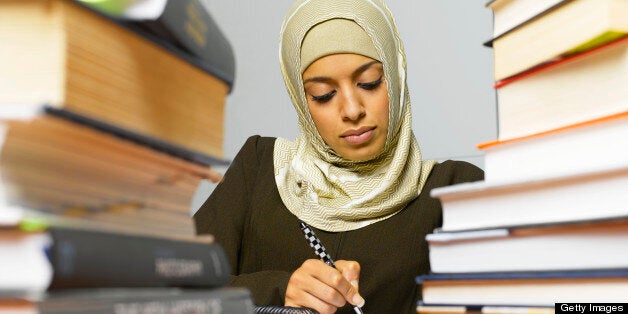 Islamic student societies have been under the spotlight after Theresa May announced a crackdown on campus "radicalism" following the brutal attack on a soldier in Woolwich by alleged Islamic extremists.
One of the men arrested over the killing of Lee Rigby last week is Michael Adebolajo, a former student at Greenwich University. The home secretary has pounced on claims Muslim radicals distributed leaflets at the university's freshers fair and has since announced a probe into whether the university's islamic society had any role in radicalising Adebolajo.
May attacked the Federation of Student Islamic Societies (FOSIS) for not challenging extremism. "They need to be prepared to stand up and say that organisations that are extreme or support extremism or have extremist speakers should not be part of their grouping," she told the Daily Telegraph. She also criticised universities for being "complacent" in tackling the risk of extremism on campus, saying institutions were not "sufficiently willing" to recognise radicalisation.
Professor David Maguire, vice-chancellor of Greenwich said. "We are committed to ensuring that the university is a safe and secure place of study and debate within the confines of the law. We have diverse communities on campus and these include a range of different faiths."
Boris Johnson has also spoken out, saying universities need to be "much tougher" in monitoring Islamic societies.
"It is utterly wrong to have segregated meetings in a state-funded centre of learning," he wrote in the Telegraph. "If visiting speakers start some Islamist schtick – and seek either to call for or justify violence – then the authorities need to summon the police."


Omar Ali, president of FOSIS, hit back saying Islamic schools and Muslim student bodies "are the barrier to extremism".
Writing for the Huffington Post UK, Ali said: "Policies which demonise and create suspicion of the Muslim community need to be dropped and a real engagement of the Muslim majority must be factored in to the government's reassessment.
"At FOSIS we have always approached the discussion around extremism seriously by engaging with academics, experts and leaders of societies. Our organisation represents 115,000 Muslim students on campuses across the UK and Ireland, all of whom want violent extremists to have no part in our society."
Minesh Parekh, a student at Sheffield University, said the attack was used to demonise Islam after the killers claimed their actions were in the name of Allah.
"If the circumstances were reversed, the men's religion and race would not have been mentioned whatsoever," he told HuffPost UK. "If a white British citizen had killed someone with a machete, they wouldn't be described as being 'of Christian appearance', and their race wouldn't have been considered a factor."