British forces could be illegally detaining up to 85 Afghan nationals in a holding facility at Camp Bastion, lawyers have claimed.
Defence Secretary Philip Hammond has confirmed that the UK is holding "80 or 90 Afghan detainees" at Camp Bastion, but the MoD insists their detention is legal.
UK lawyers acting for eight of the men told the BBC their clients had been held for up to 14 months without charge.
The legal documents obtained by the BBC suggest that dozens of suspected insurgents are being held at the base, in what their lawyers claim could amount to unlawful detention and internment.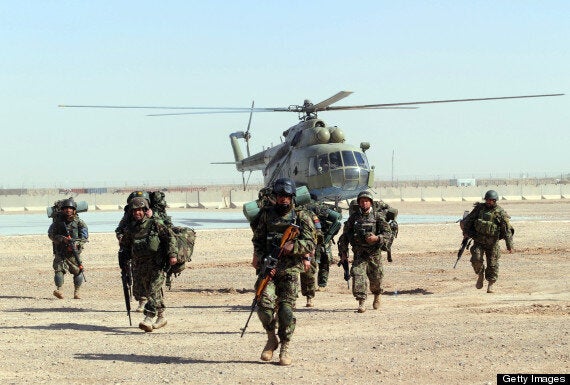 Afghan National Army soldiers arrive at the ANA Camp Shorab near Camp Bastion (file photo)
But an MoD spokeswoman said all suspects were being held legally.
"Detention operations are an important part of our force protection measures protecting British troops, our allies and partners, and the Afghan civilian population," she said.
"They directly contribute to the success of the NATO ISAF mission in Afghanistan and ultimately to UK national security.
"The threat of UK court action is currently preventing us from transferring detainees to the Afghan Authorities."
British forces in Afghanistan, operating as part of the International Security Assistance Force (Isaf), are allowed to detain suspects for 96 hours but can hold them for longer in "exceptional circumstances" the MOD said.
But lawyers representing the eight men said the British army has no power to continue holding their clients, who were arrested by soldiers in raids in villages in Helmand and Kandahar provinces.
Phil Shiner, lawyer for eight of the men, said: "This is a secret facility that's been used to unlawfully detain or intern up to 85 Afghans that they've kept secret, that Parliament doesn't know about, that courts previously when they have interrogated issues like detention and internment in Afghanistan have never been told about - completely off the radar.
"It is reminiscent of the public's awakening that there was a Guantanamo Bay. And people will be wondering if these detainees are being treated humanely and in accordance with international law."
They have now launched a bid at the High Court for the right to have the cases brought before a court to determine whether the detainment of their clients is lawful or not, the BBC reported.