A leading Indian trade unionist has warned that radioactive metal could be found in vast quantities of clothes and accessories shipped overseas, and that the leather belts withdrawn from sale by Asos could be the tip of the iceberg.
Sudhershan Rao Sarde, regional secretary for global trade union IndustriALL, told The Huffington Post UK he had "no doubt at all" radioactive material could have got into other items of clothing shipped abroad, and that he was gravely concerned about the welfare of the workers making the products.
"We are not surprised. This is common in India and Bangladesh," he said.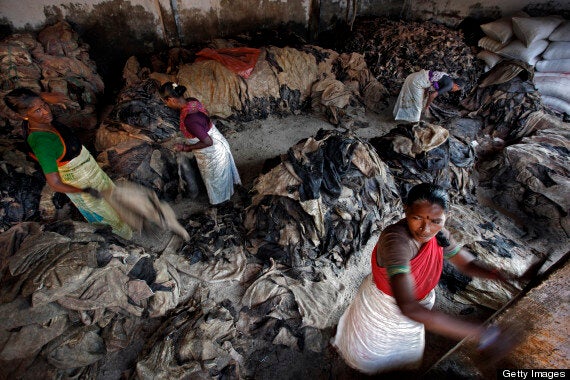 Women in a leather factory in India (file photo)
They are being held in a radioactive storage facility after testing positive for Cobalt-60.
The leather belts, on sale via online fashion retailer Asos, could cause injury to the wearer if worn for more than 500 hours. They are being held in a radioactive storage facility after testing positive for Cobalt-60, according to an internal report by the retailer, seen by The Guardian, after one of the brass-studded belts was pulled by US border control and tested positive.
"To be very frank the metal used in the belt-making is all from secondary steel, recycled metal. A lot of waste coming into this country," Sarde told HuffPost UK.
"Ships are sent here to be broken up, sometimes they contain radioactive material or nuclear waste, which finds its way into South Asian countries. Some of the metal comes from electronic waste.
"India has become a dumping ground, so it is not really a surprise this can happen. The scrap from nuclear fuel centres is supposed to be buried, but scrap metal collectors find it."
He said that trade unions had little influence in the area where the belts were manufactured, allegedly by Haq International in Kanpur, Uttar Pradesh. "It can be very dangerous for workers, and it is something we urgently need to campaign on. But it is a really serious challenge.
"There are very few trade unions in recycling metal or in leather good manufacturing. This factory in particular there are only 18 workers, it's a small establishment. But we are in touch with representatives there to find out more."
The UK Border Agency uses specialised radiological detection equipment at key points on entry to the UK, a representative said. Upon finding radioactive material, the products are referred to the "appropriate agency".
A worldwide recall of the items has been implemented, with 49 sold across 14 countries, but it is not known how many have been returned.
A spokesman for Asos told the Huffington Post UK: "A product supplied to Asos did not meet UK health and safety standards. Asos worked with all relevant authorities and undertook a precautionary product recall, in line with our high standards of quality and customer care. No other Asos product lines are affected.
"Asos continues to work with the relevant regulatory authorities and is in dialogue with the supplier and the factory workers involved to ensure a satisfactory outcome."
The Guardian also reported that Faizan Haq, head of Haq International, the company named as the supplier of the belts by Asos, has been refused permission to inspect the goods.
Cobalt-60 is used in radiotherapy in hospitals and are increasingly used for the sterilisation of spices and certain foods, in which powerful gamma rays kill bacteria and other pathogens, without damaging the product, Radiation Protection reveals.
In 2010 a 35-year-old Indian scrapyard worker died of multiple organ failure after being exposed to a machine from Delhi University containing Cobalt-60, the Telegraph reported.
Rajendra Yadav died and seven others were hospitalised in what the International Atomic Energy Agency described as the worst radiation incident worldwide in four years.