Facebook has removed numerous "rate your shag" groups after a craze encouraging students to name and rate their sexual partners hit universities across the country.
Students sent in messages to the page admins about their sexual encounters, along with a rating out of 10, although HuffPost UK has decided not to republish the "offensive" content. The "reviews" woud then be posted on the message boards - some even naming their "conquests".
Loughborough University has said it will be taking action against any students responsible for the "inappropriate" comments.
Durham University's rate your shag page invited students to: "Let everyone out there know who's good in bed and who to avoid."
One Durham student Cressida Peever, writing for student paper Palatinate, asked: "Surely this page is nothing more than a platform for humiliation, allowing people to be cruel whilst remaining conveniently anonymous?
"Just as sex should be consensual for both parties, so should the sharing of information regarding it. It is one thing to share a cheeky detail with friends. It is another thing entirely to belittle or berate a previous (let alone current) sexual partner on the Internet.
"It is offensive, hurtful and embarrassing that members of our university can follow such a disgusting trend."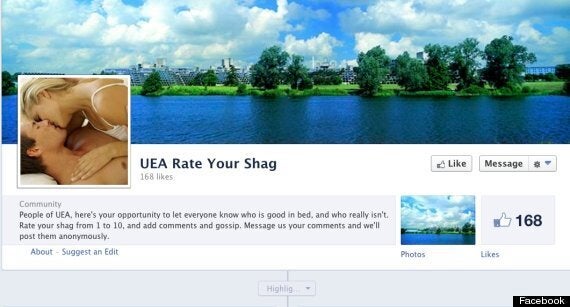 One of the rate your shag pages Facebook has now removed
The National Union of Students (NUS) said the pages equated to bullying. Pete Mercer, NUS vice-president (welfare), said: "If you imagine seeing the name of a friend, partner or family member on these sites then you quickly realise why pages like this are not funny in the slightest and tantamount to bullying.
"NUS has long taken leadership on tackling bullying behaviour and these sites demonstrate that our work on tackling 'lad culture' applies not just to men.
"'Banter' that seeks to humiliate and belittle is unacceptable and must be challenged both on and offline."
Facebook may even face legal action over the pages due to people being named, according to one privacy specialist lawyer. Isabel Martorell at Carter Ruck told the Independent: "The courts have made clear information about a person's sex life is very much private, that's also the case even if what's being posted about the information is untrue."


A Loughborough University spokesman said: "We have been made aware of a Facebook page that contains personal and offensive comments about people at the University.
"This is not a Loughborough University Facebook page.
"Any student who posts inappropriate comments or material to this or other such sites is contravening the University's policies on acceptable use of IT and harassment and bullying.
"As such, the University will take disciplinary action against them."
Facebook has confirmed the pages are in breach of its policies. A spokesman said: "We do not tolerate bullying or harassment. We allow users to speak freely on matters and people of public interest, but take action on all reports of abusive behaviour directed at private individuals."