 Professor Mohamed El-Gomati toldGQ magazine his initial response to EDL threats was to call the police, but instead decided to invite the group in "to tell us about their grievances."
He told the men's magazine: "They arrived with a St George's flag, but I didn't dare tell them that St George is actually Palestinian! I think that would have started another row."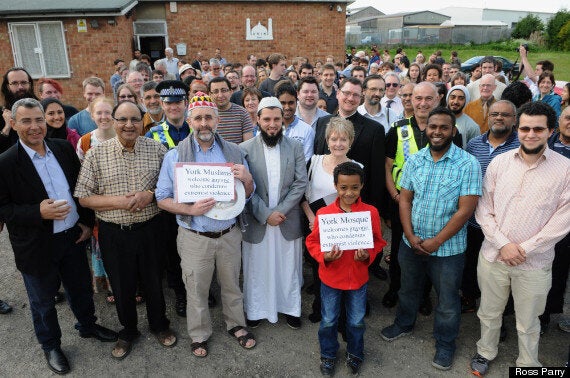 The Mosque decided to hold an open day
The York University professor also described how EDL supporters handed elders a petition saying they shouldn't be entitled to a mosque in the city. Prompted by the killing of Lee Rigby by Islamic extremists in Woolwich, they insisted "we will not surrender to the Taliban" and also claimed Muslims were taking jobs in the city.
El-Gomati said the discussion was civil, adding: "We asked them what their problem is. They told us that they condemn what happened in London. I explained that we too condemn what happened in the strongest way possible.
"They responded by saying, 'We will not surrender to the Taliban.' I explained that neither do we. I mean, anybody with any sense will say that the Taliban are nutters!
"Then they said: 'You people are taking our jobs.' We tried to explain to them that most of York's Muslim community is in fulltime employment and contributes, through tax, to the national economy."
Other members of the community also arrived on to take part in the open day, meaning all in all around 200 people turned up.
No one was hurt in the ensuring blaze and two people have been arrested for arson. The serious attack came after a brick was thrown through a window last week, shattering a pane of glass that fell onto a sofa below.
There have been a number of attacks on mosques after the murder of Lee Rigby last Wednesday. The Tell Mama hotline for recording Islamophobic incidents said 193 incidents had been reported by Monday evening, with more expected to come in.
Before the Woolwich attack the service recorded an average of three or four incidents a day.
"Muslims at this moment are feeling a real and pervasive sense of fear, particularly Muslim women who fear going out and this is compounded when husbands suggest that they will undertake activities like shopping for them," Fiyaz Mughal of Tell Mama told HuffPost UK.