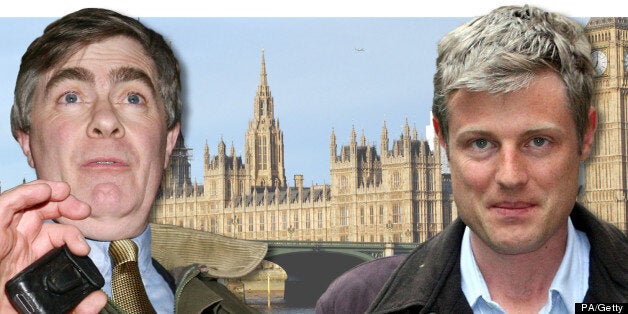 Tory MP Zac Goldsmith has called for new powers to allow voters to force Patrick Mercer from parliament immediately, after the former shadow minister resigned from the Conservative Party following allegations he broke parliamentary lobbying rules.
On Friday, Mercer, the MP for Newark, announced he was resigning the Tory whip following an apparent sting operation by undercover BBC and Daily Telegraph reporters.
However his decision to remain in the Commons until the next general election, due in 2015, has angered many and reignited calls for voters to be able to sack MPs mid-term.
Conservative Richmond MP Zac Goldsmith tweeted: "If it's bad enough for you to resign from your party, how can it be ok to continue representing constituents at all? Where's that Recall?!"
Campaigners for a power of recall were disappointed earlier this month when the measure once again failed to make it into the government's Queen's Speech.
Goldsmith told The Huffington Post UK at the time that he intended to maintain pressure on David Cameron and Nick Clegg to introduce legislation.
"In terms of the proposed political reforms, Recall was really the only one that would have empowered voters in any meaningful sense, and because it would also ensure greater accountability for MPs, it would bolster their position, provide an implied mandate, and strengthen our democracy as a whole," he said.
"Clearly its absence from the Queen's Speech was a grave disappointment, but I still hope the government will honour its commitment to bring in Recall before the next election, and I intend to apply pressure wherever possible to ensure that happens."
The coalition agreement between the Conservative Party and the Lib Dems signed in 2010 pledged to: "bring forward early legislation to introduce a power of recall, allowing voters to force a by-election where an MP was found to have engaged in serious wrongdoing and having had a petition calling for a by-election signed by 10% of his or her constituents."
The suggestion that a mechanism of recall could be introduced, similar to that which exists in the United States, came in the wake of the 2009 expenses scandal which saw scores of MPs condemned for fiddling their allowances.
Goldsmith pressed Clegg on the issue just last month when he made a surprise call to the deputy prime minister's 'Call Clegg' LBC radio show. The Tory MP said the power of recall would "genuinely empower voters" at a time when so many were cynical about politics and politicians.
The Lib Dem leader insisted he wanted to see the legislation on the statute book "in this parliament" but admitted there had difficulty coming up with plans that would work.
"You cannot turn this into a kangaroo court or else everyone is going to be trying to recall everyone else. You have to have some due process in this," he said.
The deputy prime minister is likely to be grilled on the subject when he faces MPs in the Commons next week.