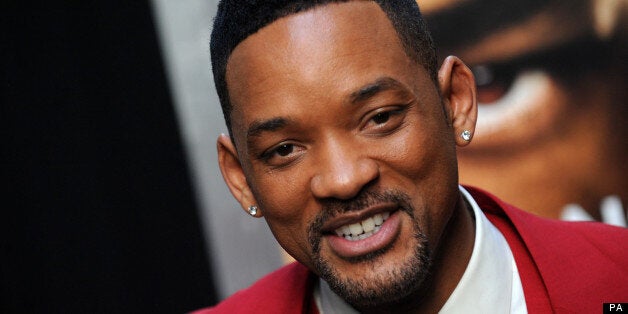 Don't be fooled by Will Smith's effortlessly laid-back exterior. You don't get to be the only actor in the world to have eight consecutive films gross more than $100 million at the US box office, not to mention the only one to have eight films in a row open at the number one spot, without working extremely hard.
The Philadelphia-born actor himself admits, "I'm a student of patterns. At heart, I'm a physicist. I look at everything in my life as trying to find the single equation, the theory of everything." (This was him speaking to Vulture.com - more here...)
This love of science has included calculating what it takes to become the "the biggest movie star in the world," he told Time magazine, by studying the common characteristics of box office successes. What did he come up with? Real life stories and aliens. Thus it began...
1.Fresh Prince of Bel Air (1990)
Will Smith was a Grammy winning rapper but struggling financially when producers approached him with the idea of building a sitcom around his life. The result, 'Fresh Prince of Bel Air', all about Will, taken in by his Californian relatives, who want to instil in him their values, while he has some other ideas. It became a six-series, 148-episode hit, syndicated all over the world, with a theme tune by Will and Quincy Jones that can still delight today, most recently with Will and his son Jaden's surprise rendition on the Graham Norton show.
2. Six Degrees of Separation (1993)
By 1993, Will Smith had set himself the goal of becoming the biggest movie star in the world. Along the way, he won the lead role in this film based on the play. Will played 'Paul', a polite young man claiming to be Sidney Poitier's son, who gains his way into the upper echelons of New York society, until his polite hosts and hostesses begin to smell a rat. Most enduringly, it kick-started the Kevin Bacon game, much enjoyed by all Hollywood watchers.
3. Independence Day (1996)
This blockbuster sneaked up on cinema audiences and became the second highest-grossing film in movie history, propelling Will in one move to the front row of action heroes. In Roland Emmerich's action film, Will put his research to good use, in a story of a small brave group taking on aliens threatening to occupy Earth.
If it ain't broke... Time to team up with a screen veteran to mutual advantage. In Will's case, it was Tommy Lee Jones, the project one of special agents tasked with protecting the world against... aliens. This time it's a secret organisation with agents dressed in crisp suits that borrowed much from Blues Brothers cool. It was so successful that it's spawned two sequels... and counting.
Time to stretch the acting chops. Will Smith is probably one of the few actors to match the legendary boxer Muhammad Ali for charisma. But the lean actor proved he had the commitment to beef up for the requisite physicality for the role too, in this undoubted labour of love. The result - Smith's first Oscar nomination for Best Actor.
6. The Pursuit Of Happyness (2006)
Having proved himself in big budget blockbuster, Smith turned to a smaller tale of a humble man trying to better himself. As well as revealing a simpler, more understated side to the extroverted actor, earning him his second Academy Award nod, this film introduced us to Mr Smith Jr., namely Jaden Smith, now one quarter of the all-conquering Smith family.
All this without mentioning rom-com 'Hitch', 'Seven Pounds, 'Hitch', 'Hancock', etc, etc., even extending to this week's M.Night Shyamalan mind-boggler, 'After Earth'. Is there nothing the man can't do?
Apparently not, and lack of confidence is not a problem either. "People laugh, but if I set my mind to it, within the next 15 years I would be president," he has said in the past.
Meanwhile, the current incumbent, President Obama, has said Will would be the right person to play him on in a biopic, saying, "He has the ears." So both off-screen and on-, it appears Will Smith's rise has only just begun.
'After Earth' is in UK cinemas from today 31 May. Watch the trailer below...