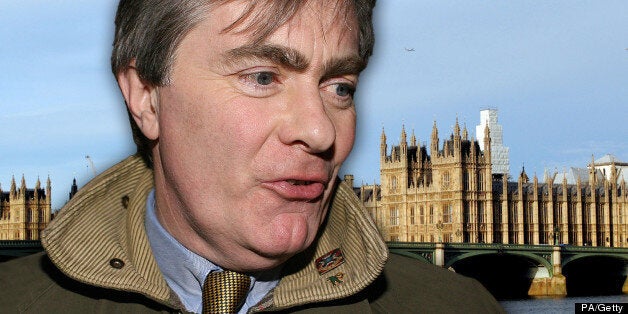 Details of the shady deal allegedly accepted by a former Tory MP, to pay him thousands of pounds to ask questions in parliament, have been published on Saturday.
Patrick Mercer, a long-time adversary of David Cameron, quit the party whip to "save my party embarrassment" and has referred himself to the Parliamentary Commissioner for Standards. He will not contest the next general election.
The sting operation, conducted by the Daily Telegraph and the BBC's Panorama programme, had undercover reporters posing as lobbyists representing businesses seeking to end Fiji's suspension from the Commonwealth and signed a £2,000 per month contract.
Fiji, a military dictatorship, was suspended in 2009 over human rights concerns and a lack of democracy.
It is alleged that after being paid £4,000, he tabled five parliamentary questions related to the country that had been drafted by the bogus lobbyists as well as a parliamentary motion. Mercer said he is taking legal advice.
Parliamentary records show he asked questions this month about Fiji's suspension from the Commonwealth, and UK investment in its public transport.
In March he put down an Early Day Motion - a parliamentary device used to draw attention to issues - saying there was "no justification for Fiji's continued suspension from the Commonwealth".
He had failed to register his interest, it said, and also established an all-party group on Fiji and agreed to provide a parliamentary pass for a "representative" of the fictional Fijian client.
In a statement Panorama said: "Patrick Mercer MP said he agreed to be a consultant for work he said was outside parliament.
"But he submitted five parliamentary questions, which were all answered, as well as an early day motion - all in relation to Fiji."
It released a clip which appeared to show Mr Mercer telling the undercover reporter: "I do not charge a great deal of money for these things. I would normally come out at £500 per half day, so £1,000 a day."
Details of the allegations emerged hours after Mr Mercer dramatically announced he would quit parliament in 2015.
In a statement, he said: "Panorama are planning to broadcast a programme alleging that I have broken Parliamentary rules.
"I am taking legal advice about these allegations - and I have referred myself to the Parliamentary Commissioner for Standards.
"In the meantime, to save my party embarrassment, I have resigned the Conservative Whip and have so informed (chief whip) Sir George Young. I have also decided not to stand at the next general election."
A Tory spokesman said Prime Minister David Cameron thought the MP had "done the right thing".
"It's important that the due processes take their course," the spokesman added.
The former army colonel served as shadow homeland security minister until 2007, stepping down after suggesting that racism was "part and parcel" of life in the forces.
Downing Street will hope to avoid a by-election in Newark, where Nigel Farage's Ukip could pose a threat despite the 16,000 majority secured in 2010.
However Mr Mercer is certain to face pressure to step down before the election.
"If it's bad enough for you to resign from your party, how can it be OK to continue representing constituents at all? Where's that Recall?!" he posted on Twitter.
The latest allegations will also renew pressure on the Government to bring forward tougher regulation of lobbyists.
A proposed statutory register was included in the Coalition Agreement to deal with what Mr Cameron described before the 2010 election as "the next big scandal waiting to happen".
But it has so far failed to make it into the Government's legislative programme.
Stuart Wallace, chairman of the Newark Conservative Association, said: "Patrick has always been a dedicated,
hard-working and popular local MP and we will be saddened if these allegations are proven.
"Until such time as there has been a full and proper investigation, in line with British justice, we shall neither pre-judge nor pre-empt the outcome.
A spokeswoman for the Standards Commissioner Kathryn Hudson said she had not yet received Mercer's self-referral and would consider the case for an investigation once she had had the chance to consider it.
The MPs' code of conduct prohibits "paid advocacy".
It says: "It is wholly incompatible with the rule that any Member should take payment for speaking in the House. Nor may a Member, for payment, vote, ask a Parliamentary Question, table a Motion, introduce a Bill or table or move an Amendment to a Motion or Bill or urge colleagues or Ministers to do so."
Members are also required to register financial interests, such as outside earnings.