A Government minister has called on UK clothes retailers to "assume responsibility" for the conditions in which garments are manufactured in the poor world, as he visited victims of the Rana Plaza factory collapse in Bangladesh.
Alan Duncan announced £18 million in British funding for safety and skills training for Bangladeshi workers, and said that existing UK aid will be spent on the enforcement of building standards, while Britain will provide a team of experts to review the country's building inspection system.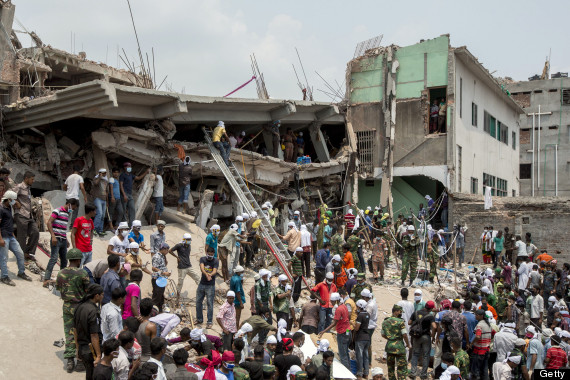 More than 1,100 people were killed when the building collapsed
More than 1,100 people were killed when the Rana Plaza complex in Savar collapsed on 24 April, and around 2,500 more were rescued from the building, which housed many operations producing low-cost garments for Western companies.
Visiting survivors at Savar's Centre for the Rehabilitation of the Paralysed, which is supported by UK aid, international development minister Alan Duncan said: "I have been incredibly moved by the courage of the people I have met today, many of whom lay trapped for days and sustained appalling injuries.
"The Rana Plaza factory collapse was devastating in its scale and, along with factory fires, must be taken as a wake-up call to all of us. Safety and standards must be made to catch up with the rapid growth in the garment sector, which is a massive success story and must not be allowed to go sour.
"The industry has been built from nothing in the past 30 years and now needs to be turned into a long-term development success, which means that urgent action is needed across the sector. Alan Duncan said the government was prepared to commit more funds to aid Bangladesh
"Our own high street brands must assume responsibility for their products, from the store right back to the sewing machine, and the UK is ready to help make this happen."
Mr Duncan said that the Department for International Development was ready to commit funding towards initiatives that see buyers, manufacturers, workers, non-governmental organisations (NGOs) and the government of Bangladesh work together to agree a set of common compliance standards to bring accountability to the supply chain, health and safety to workers and robustly enforced construction standards to the buildings in which they work.
He also toured the Babylon factory, which produces clothes for Tesco and other UK buyers, and raised the issue of garment workers' conditions at a meeting with Prime Minister Sheikh Hasina.