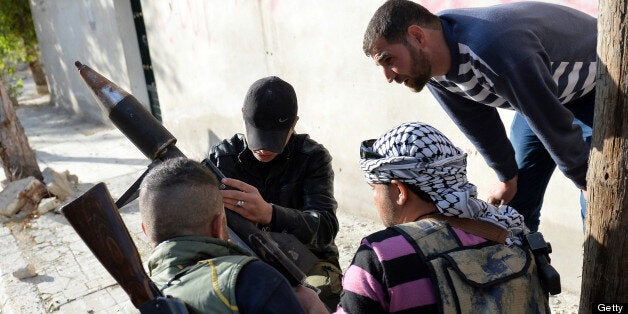 MPs are demanding parliament be given the right to veto any decision to arm the Syrian opposition movement, after the British and French governments succeeded in getting the EU arms embargo lifted.
A cross-party motion tabled today calls for a "full debate and vote" before any weapons are shipped to the region.
The MPs are also demanding that parliament be recalled should it be in recess at the time the government decides to make the decision.
"It is a matter that needs to be subjected to full parliamentary scrutiny and debate before the UK potentially become further involved in another Middle Eastern conflict," the motion insists.
Conservative MP Stewart Jackson, who has signed the motion, said it was "not acceptable" for the government to consider ordering British forces to support the Syrian rebels with arms without parliament having a vote.
"We're trying to establish the idea the government should seek the sanction of both houses of parliament, certainly the Commons, before any direct or indirect military intervention is contemplated," he said.
Jackson told HuffPost UK that the motion was not necessarily about the rights and wrongs of arming the rebels, but about the principle that MPs should be given a say.
"The Assad regime is an evil despotic regime, but that doesn't mean we should arm people who oppose him on any basis," he said. "We are not in a position to know who we are arming."
"We do take as read the great tragedy in Syria. We are mindful of what happened in Balkans and Rwanda but we are not convinced it is necessarily a strict comparison that in Syria we have systemic genocide. It is a civil war."
The Early Day Motion in full:
That this House believes that prior to any decision being taken to supply arms to the Syrian National Coalition or any other groups in Syria, a full debate and vote should be held in Parliament and in addition to this, if Parliament is in recess it should be recalled to facilitate this important debate, notes the division and sensitivity that this issue evokes both with colleagues and the general public and believes that it is a matter that needs to be subjected to full Parliamentary scrutiny and debate before the UK potentially become further involved in another Middle Eastern conflict, and further notes that in some matters of defence, time does not always allow for Parliamentary debate, however it does not believe this constraint applies to this potential course of action.
Critics of denying the right of the government to go to war before parliament votes in favour argue it restricts the ability of the military to act quickly.
But Jackson said: "The war powers act that is used by US Congress doesn't preclude the US armed forces from operating efficiently. What the House of Commons will do give a general sanction and trust the professionalism of our armed forces."
The coalition has committed itself to enshrining in law the convention that MPs be given prior approval for war, a precedent set in 2003 when Tony Blair gave parliament the final say on whether the UK would join the US invasion of Iraq.
During the Commons debate on the decision to take military action in Libya on 21 March 2011, foreign secretary William Hague said ministers remained committed to introducing legislation. However this has yet to happen.
Hague said: "We will also enshrine in law for the future the necessity of consulting parliament on military action."
David Cameron was also asked by Tory Julian Lewis whether he would recall parliament before any action is taken to arm the Syrian opposition during the recess.
The prime minister said while he had "never been someone who wants to stand against the House having a say" it was not an issue as the government has "made no decision to arm the rebels".
On Wednesday morning Downing Street said "the room for doubt" over whether president Assad's regime had used chemical weapons "continues to diminish". The prime minister's spokesman added: "President Assad has no future. He must go."
Also today, Lord Guthrie, a former chief of the defence staff, said having a Commons vote before any military action was taken would be "very difficult" even though parliamentary approval for wars was welcomed by soldiers.
"The miltary do have to keep some thing secret," he told a parliamentary committee. "They have to move very quickly if they are going to put out the embers before they become flames. It is very difficult if you are having debates and that sort of thing."
He added: "It's very difficult to get the timing right. A lot of these wars or operations you slide into. They start in a very small way and have unforeseen consequences, before you know where you are you are up to your neck in it."
And General Sir Mike Jackson, another former chief of defence staff, said while soldiers on operations liked to know they had the support of parliament, formalising the process of approval could cause problems.
"If the executive has decided upon military action and parliament were to take a differnt view, you do have a difficult situation. The armed services will know parliament has not approved," he said.