Foreign Secretary William Hague is to make a statement in the Commons on Thursday that is expected to set out plans to compensate elderly Kenyans tortured during the Mau Mau uprising.
The UK will pay out £13.9 million to around 5,200 Kenyans for human rights abuses by the British in the colonial era as well as funding a permanent memorial to the victims, according to The Times.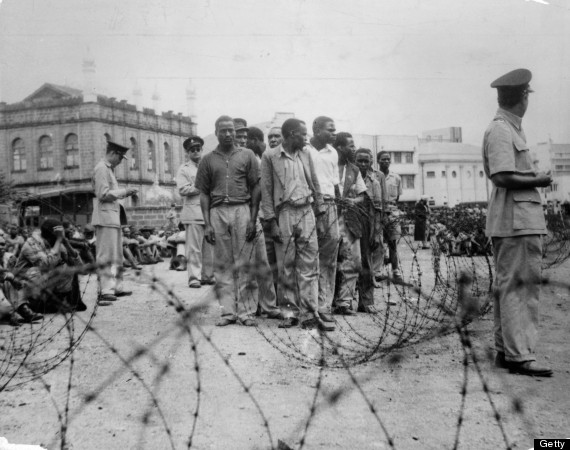 Thousands of Mau Mau supporters were detained in camps, tortured, maimed or executed
It comes after a legal battle between a number of elderly victims and the British government.
Last year the High Court ruled the three Kenyans tortured during the unrest could pursue their compensation claims against the Government.
The Foreign and Commonwealth Office (FCO) had attempted to thwart the bid, claiming the actions were brought outside the legal time limit and claimed there were "irredeemable difficulties'' in relation to the availability of witnesses and documents.
It did not, however, dispute they suffered ''torture and other ill-treatment at the hands of the colonial administration''.
Lawyers for Wambugu Wa Nyingi, Paulo Muoka Nzili and Jane Muthoni Mara argued that it was an exceptional case in which the judge should exercise his discretion in their favour.
BLOG:Michael Buerk - The Mau Mau were vile but so was the British response to them
The Mau Mau movement emerged in central Kenya during the 1950s to get back seized land and push for an end colonial rule.
Supporters were detained in camps and thousands were tortured, maimed or executed.
Martyn Day, the senior partner at the Leigh Day law firm representing the claimants said: "We are looking forward to the statement by William Hague in the House of Commons tomorrow morning. We very much hope that this will be the final resolution of this legal battle that has been ongoing for so many years."