Tens of thousands of people have gathered in Tel Aviv to celebrate gay pride.
Amid the festivities of the city's 15th annual parade, several politicians chose the opportunity to address the masses.
Despite being met with boos for his unpopular economic policies, finance minister Yair Lapid announced he intended to work on legalising same sex marriage, Haaretz reported.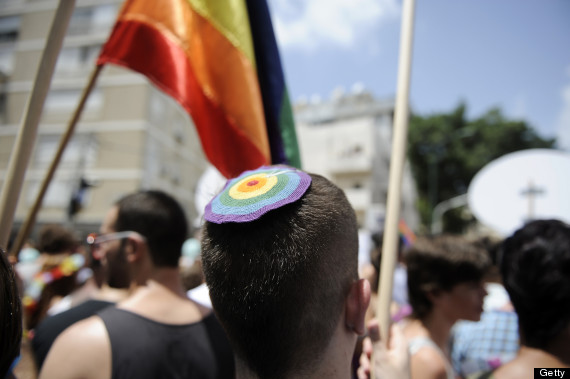 A man wears a kippah with rainbow colors during Tel Aviv's gay pride parade on Friday
Meanwhile Tel Aviv mayor Ron Huldai told the crowds: "I am proud that Tel Aviv is the most gay-friendly city in the world."
Israel is the only place in the Middle East where homosexual couples can openly show affection and it rated a top travel destination for the gay community, the Washington Times said.
The Jerusalem Post reports the city is expecting over 20,000 foreign tourists to visit for pride events, which will continue throughout June.
The celebrations are going ahead amid the recent arrests of three suspects in connection with the killing of two people at a gay youth centre in the coastal city four years ago.