Opera singing brothers Richard and Adam have blasted 'Britain's Got Talent' egg-thrower Natalie Holt for ruining their chances of winning the talent contest's final on Saturday night, saying she 'destroyed' their dream.
The Welsh duo's final performance was interrupted when the session musician stormed the stage and started lobbing eggs at the judging panel - some of which managed to hit Simon Cowell.
But the pair - who eventually came third in the competition - are furious she stole their chance to perform in front of the Queen and take home the £250,00 prize money.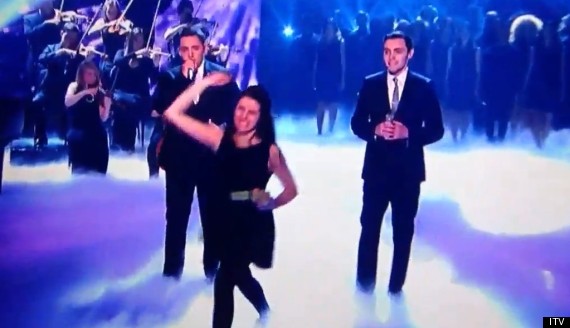 Thirteen million viewers saw Natalie interrupt Ricard and Adam's performance on the live final
Richard told the Sun: "She said she was protesting about music not being performed properly, but we were there singing our hearts out, performing live and she ruined it.
"She has destroyed our dream. She might regret it now and say sorry, but it's too late for us — we will never get that moment back. It's gone forever."
He added: "We just can't help but think that what she did cost us any chance we ever had of winning."
LIKE US ON FACEBOOK | FOLLOW US ON TWITTER
Meanwhile, viola player Natalie - who was hired to play as part of the lads' backing orchestra - said she was simply making a stance against Simon Cowell's grip on the music industry.
"I took a stand against people miming on television and against Simon and his dreadful influence on the music industry," she said.
She added in a statement: "I want to apologise to Richard and Adam for overshadowing their performance.
It has emerged that Natalie was a member of Raven Quartet, who appeared on the show themselves in 2012.
Hungarian group Attraction were the eventual winners of 'Britain's Got Talent', getting the chance to perform at the Royal Variety performance.