George Osborne's cat Freya is facing accusations of being a Chinese spy – after being frequently spotted in highly sensitive locations following a mysterious three-year absence.
There are even fears the tabby cat may have been fitted with an electronic chip, making her the perfect listening device.
A source told The Daily Mail: "Some of us think the Chinese got her. She can get everywhere. You'd only have to bug her and you'd find out half the Government's secrets."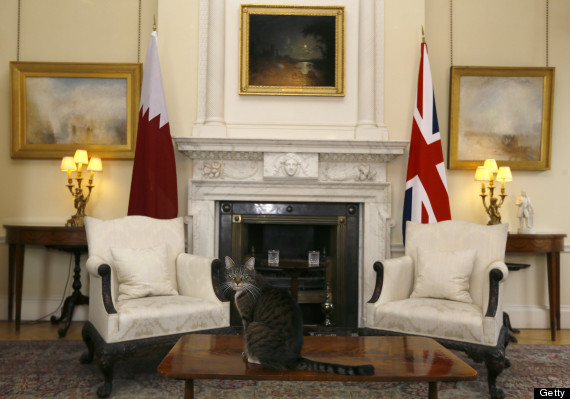 Freya arrogantly perches on a table in Downing Street
So far Freya has been caught trying to break into the Treasury, inside the Foreign Office and in the Cabinet room at Number 10.
The Independent reports the roving moggy has even been as far as Trafalgar Square and in one incident was discovered in the command centre of a secret "war gaming" exercise involving the Navy.
One source told the newspaper: "I said to George 'are you sure she's not a spy'?
"George just laughed."
SEE ALSO: Cat Caught Smuggling Mobile Phones Into Russian Prison (PICTURE)
Freya, who was famously photographed nestling in the Chancellor's famous red briefcase earlier this year, joined the Osbornes in 2009 but went missing shortly afterwards.
She was returned to the family three years later after she was identified by a microchip.
Her whereabouts during this murky period remain unknown.
If Freya is indeed a spy, she won't be the first member of the animal kingdom employed in human espionage.
In 2012 an electronically tagged vulture was detained by officials in Saudi Arabia amid suspicions it was spying for Israel.
And in 2010 Egypt claimed a series of shark attacks in the Red Sea were the result of a plot carried out by Israel's Mossad agency.