A 24-year-old woman has shrunk her waist from 25 inches to 16 by wearing a corset every day for three years.
Michèle Köbke's waist is now smaller than that of a two-year-old's and she hopes to shrink down even further to beat the current world record of 15 inches.
Köbke, from Berlin, sleeps in her corset and believes her hourglass figure is graceful and womanly – even though it has left her with health problems.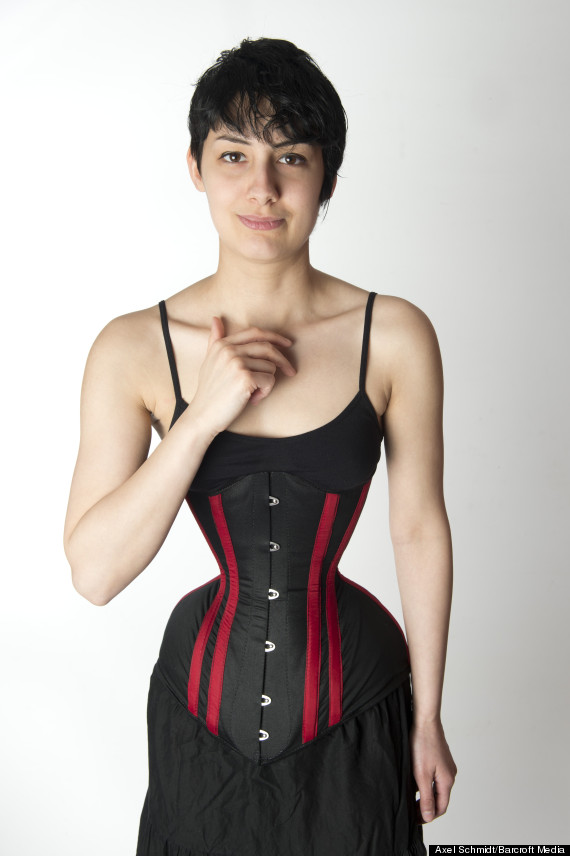 Michèle Köbke has been wearing her corset for three years
The muscles around her midsection are weakening as she relies more and more on her corset and doctors have warned there may come a time when she might not be able to move at all without the tight-fitting garment.
She also struggles to breathe and can only eat small meals – avoiding fizzy drinks and gassy foods like beans that could cause digestive problems.
The single retail assistant said: "People are dumbfounded when they pass me on the street and almost do a double take. I get lots of different reactions from men in particular. Some find my shape really attractive, while some are shocked but still find me beautiful. There are also a few who say it's too extreme. I don't really care what they think. Everyone's got their own opinions."
Köbke hopes a further two years of wearing her corset will shave at least another inch off her waist – putting her on a par with American Cathie Jung, whose 15-inch waist is the same size as a mayonnaise jar.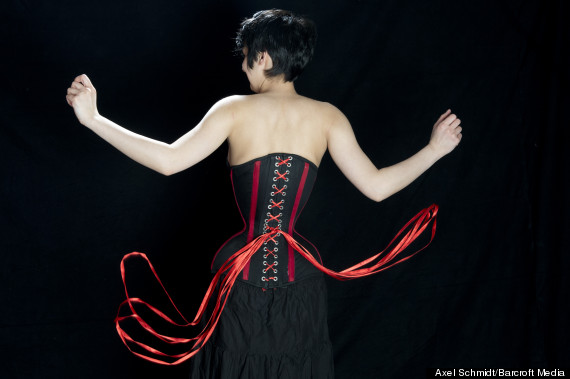 Köbke wants to slim down even further despite her growing health difficulties
She added: "I will continue because I feel much more attractive now and I've got a lot more confidence.
"I feel my movements are more womanly. I'm far more elegant and graceful."
Köbke, whose waist is 22 inches without the garment on, explains: "The key is to tighten the corset by a few inches very gradually to shape your waist. If you try and tighten it too much, too quickly it will be very uncomfortable and there's even a chance you could fall unconscious – which happened a lot in the old days.
"People say it looks painful but it's not so bad. I do get pressure marks and cuts from the corset on my skin, which burn a little but I treat them with an antiseptic ointment and they heal very quickly."
SEE ALSO:
To date she has spent £2,500 on buying and making corsets for her 5ft 5 frame.
And she's become so reliant on them she only takes them off when she's showering.
She said: "I find it difficult to get up without my corset on and sometimes it can be difficult moving around. It does make me a bit slower. Sometimes I find it quite strenuous and I have to lean on something but I'm used to this."
But despite warnings from medics as well as her friends and family, she's determined to carry on.
She said: "My mum doesn't agree with it but I'm not going to stop wearing my corsets.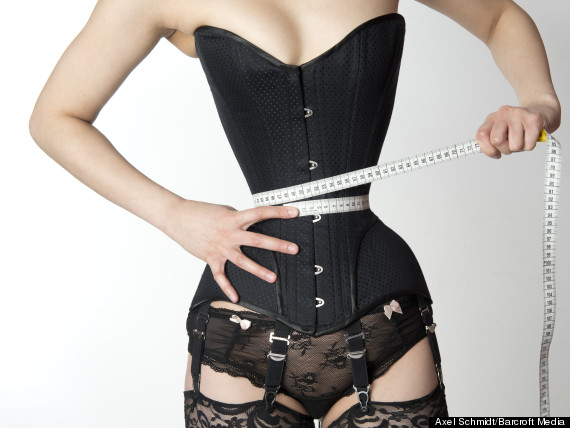 Köbke only removes her corset to shower
"My friends were against it at first because they were afraid for my health but I showed them how careful I was and they came around to the idea."
"I'm not worried about the medical implications. I would reconsider if I thought they were serious or wearing a corset could prove fatal – but, as far as I'm concerned, that's not the case."
She added: "I've become so attached to my corsets that I don't feel comfortable when I'm not wearing them. It has become something of an obsession, I can't imagine myself without my corsets."