A married teacher fled to France with a 15-year-old pupil who had a crush on him the day after police questioned her about their sexual relationship, a court has heard. The pair had sex at Jeremy Forrest's marital home while his wife was away and in hotels while the girl told her mother she was staying with friends, jurors were told.
Fearing they were about to be exposed, 30-year-old Forrest booked them on a cross-Channel ferry to Calais before spending seven days on the run, it is alleged. Jurors heard that their relationship could not be compared to Romeo and Juliet but amounted to Forrest committing a "gross and long-term breach of trust".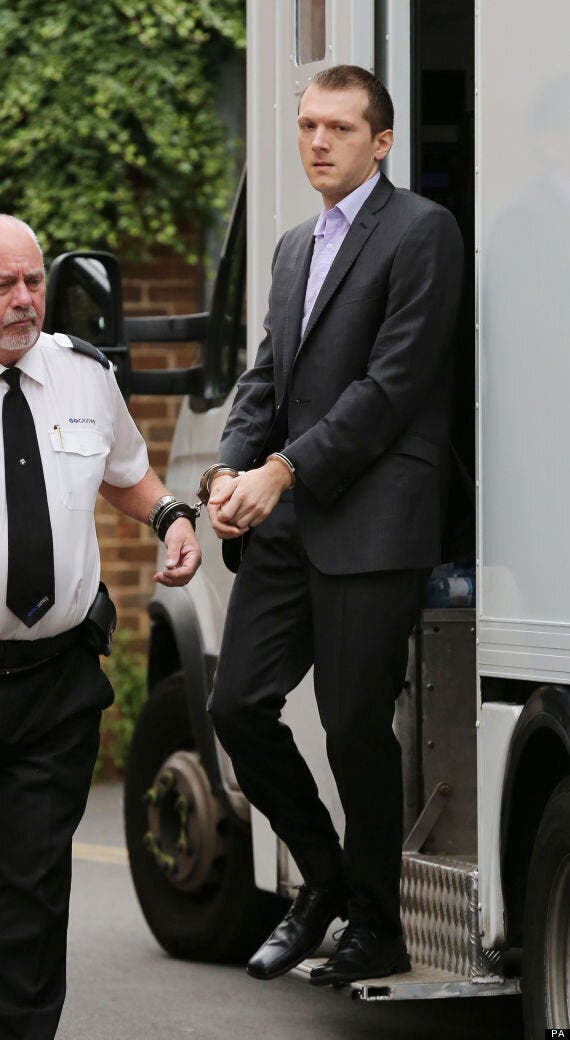 Jurors heard Forrest had sex with the schoolgirl in his marital bed
Lewes Crown Court heard that keen musician Forrest taught maths at Bishop Bell C of E School in Eastbourne, East Sussex, and that his marriage to wife Emily was strained. On the run in France, he and the girl dyed their hair to try to avoid detection, Forrest set up a French email account and bought a French mobile phone, and bogus CVs were drafted in an internet cafe to help land them work.
Prosecutor Richard Barton said Forrest used the alias Jack Dean and the girl, who cannot be named for legal reasons, gave herself a bogus name on the false CVs. But an English bar owner to whom Forrest had applied for work recognised the pair from media reports, leading eventually to them being caught in the south western port city of Bordeaux on September 28 last year.
The girl spoke of how she "panicked" when she realised police and other authorities had been made aware of their relationship. In a videoed police interview played in court from October 3 last year, she said: "I wanted to leave because I didn't want to face my mum when she found out."
She said she knew Forrest was married because he wore a wedding ring but she started getting feelings for him following a school trip to Los Angeles and were spotted holding hands on a flight. In the interview, she said: "I found him attractive, I had had boyfriends and crushes on other people but he was older, it was a lot more different, I liked that he was older and mature."
She said that after the trip they started to flirt with each other, and added: "He was normal and flirty the way I was with him. He was polite and nice to everyone but with me he was a bit nicer and I noticed that and the more I noticed that the more I was flirty."
Forrest broke down in tears in the dock at one point as the girl said he was a source of comfort to her as she dealt with personal issues. The teenager said: "He gave me a hug and said it's going to be OK. He did the teacher thing and said I could speak to someone at school who can help."
The pair started exchanging tweets on Twitter which developed into them sending each other private messages on the social networking site and then text messages, the court heard. The girl said in the interview: "When we first began texting, we were gradually getting more like into a relationship, and there were photos and stuff like that, and there were other text messages. But we didn't start a relationship until the end of May and we decided that it was what we wanted to do. Around this time, we began to meet up outside of school."
The court heard they had sex in his car and he booked them into local hotels for overnight stays, including one across the road from the court. Mr Barton said: "The girl would tell her mum that she was at a friend's house. Jeremy Forrest also lied to his wife about where he was at these times but in truth they were meeting up locally at a Premier Inn and the White Hart across the road from the court, purchasing rooms so that they could be together."
Mr Barton said the girl was a willing participant in them fleeing the country but that cannot be used by Forrest as a defence to the charge he faces. Their disappearance led to several anxious days for the girl's family and involved intensive searches by authorities on both sides of the English Channel, he added.
In the run-up to the disappearance, Mr Barton said repeated attempts were made by other teachers to dissuade Forrest from encouraging the girl's infatuation with him. "He gave the opinion that he did not seem worried about the crush," he said. "Mr Forrest denied that there was anything behind the gossip at all."
Jurors heard that Mrs Forrest noticed her husband, whom she wed in 2011, was exchanging lots of messages with a "... Del Rey" after the singer Lana Del Rey. He also bought the girl an album by the American musician, it is alleged. A "third party" tipped off police on September 14 - six days before the disappearance - about pictures Forrest is said to have sent the girl, and about their relationship.
Four days later, on September 18, a joint meeting was held between police, education officials and the school. It was decided that the girl should be asked whether she had received the images and about any relationship. Then, the following afternoon, a police officer and a social worker went to the girl's home while she was "hanging around" at school and they spoke to her mother, Mr Barton went on.
The girl went to see Forrest to tell him about the visit. Mr Barton said that, because of the rumours and the questioning both had faced, they concluded the reason for the visit must have been their relationship. "In fact, earlier in the year, they had discussed, perhaps in a fanciful way, running away together," he said. "But now it seemed much more of a realistic and tangible possibility."
When the girl got home, she told police she had no improper contact with Forrest, but officers received the go-ahead from her mother to seize her mobile phone for analysis.
Knowing their relationship was about to be revealed due to the messages and pictures stored on her phone, the girl secretly packed some belongings and her passport, Mr Barton said. Meanwhile, that same evening at their home in Ringmer, Forrest's wife found him lying in bed claiming to be unwell.
He later took her for a meal at a Prezzo restaurant in Lewes, close to the Crown Court where he is standing trial. Mr Barton said: "He seemed distracted and distant. He said he wanted to stop teaching and said he had a lot of things going on in his life.
"When his wife asked him what he meant by that, he said 'Please don't push it. I'm not talking about it. Stop now'. The things he didn't want to talk about were going to lead to him a few yards up the street in the dock here."
The next day, September 20, Forrest told the school he was unwell. In texts to his wife, he said he had a class for his Masters degree in London and would be spending the weekend at a friend's home. The girl, meanwhile, arranged to stay overnight at a friend's house.
Then at 5pm, Forrest booked a ferry online for him and the girl that evening from Dover to Calais under the names J Forrest and "E Forrest. Mr Barton said: "When he left home with a bag of personal belongings, he also took his wife's passport.
"It was clear that (Emily) and the girl looked sufficiently similar that it might just be that if they needed a passport she could use this one and trick the authorities."
The girl confided to her friend that she was not planning to spend the night at her home but that Forrest was instead about to collect her in his car. According to other girls there, Mr Barton said Forrest arrived to pick her up looking "ashamed" and as if he had been crying. "This defendant said words to the effect that he was sorry that he had to take (the girl) away."
The court was told that ANPR cameras caught Forrest's car heading across Sussex into Kent, and that the girl called a friend from Forrest's phone, saying: "Me and Jezz are going north."
Later that evening, Forrest texted his wife: "Don't worry, I'll call you tomorrow." It was the final time she heard from him as he and the girl boarded the Spirit of France ferry from Dover to Calais at 9.20pm, the court was told. Mr Barton said they arrived in Calais in the middle of the night before Forrest drove to Paris. In a diary the girl kept during the journey, she told how they tried to dodge being caught on CCTV cameras, jurors heard.
Back in the UK that morning, the girl's mother received a standard automatic text message from the school saying that she was absent from lessons. When it emerged that the girl's friend with whom she was supposed to have stayed overnight was at school, police were called. At 2pm, officers contacted Forrest's wife as he was also absent from school.
Mr Barton said: "It soon became apparent that both he and (the girl) were missing, their whereabouts completely unknown. "Given the events of the previous week, with the police involvement and (the girl) being asked to hand over her phone for analysis, the matter was immediately taken seriously and a significant and far-reaching search was commenced for a 15-year-old girl and the person who had abducted her."
Return ferry tickets had been booked by Forrest for 8.35pm on September 23 but, when they were not used, a European Arrest Warrant was obtained two days later for child abduction, the court was told. "It is an offence to remove a child from the care of their parent or lawful guardian without that adult's consent," said Mr Barton. "It is no defence whatsoever that the child concerned consents. It is wholly irrelevant. It cannot be a defence."
On the same day as the European Arrest Warrant was issued, Forrest gave his false CV to the owner of the HMS Victory bar in Bordeaux, Alison Cummins, who told him she would let him know if any jobs came up. The trial heard that Ms Cummins saw Forrest in the street the following day with the girl and had a "nagging sense" that she had seen her somewhere before.
After looking at a news report on the Guardian website about the missing pair, she realised it was Forrest and the girl, and she contacted Sussex Police. Officers travelled to Bordeaux where the pair were caught in the street as Forrest and the girl headed to the bar under the pretence that he was being offered a trial shift. The girl was flown home the following day to be reunited with her mother, while Forrest returned to the UK on October 10 without opposing extradition, Mr Barton said.
Scots-born Forrest, of Chislehurst Road, Petts Wood, Kent, denies child abduction. The case was adjourned to 10am on Wednesday.
Popular in the Community