WARNING: GRAPHIC VIDEO, SOME VIEWERS MAY FIND THIS CONTENT DISTRESSING
An Argentinian footballer has been sent off after he hurled a pitch-invading dog into a fence by the scruff of its neck.
Belle Vista player Jose Jimenez is seen rushing up to the animal after it ran onto the pitch during a lower league game against San Juan in the province of de Tucumán.
He is seen picking it up and throwing it into a metal fence, earning himself a red card and a sending off by the referee.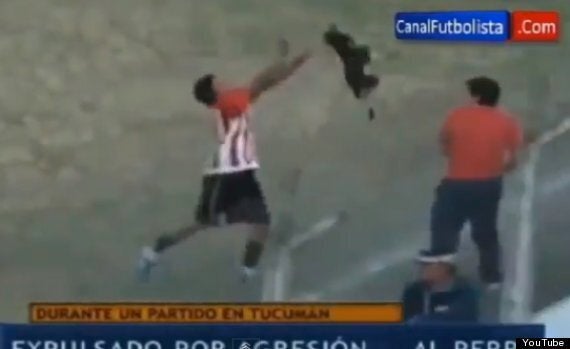 Jose Jimenez was filmed hurling the dog off the pitch and into a metal fence
Thankfully the dog gets to its feet - apparently unhurt.
Jimenez's brutal act saw him pelted by furious supporters and a brawl was sparked as hosts San Juan turned on the player.
The outcry is reminiscent to that when a player kicked an injured owl off a pitch in 2011.
The animal, a mascot for Atlético Junior, was hurt when it was struck by a ball, prompting the game to be halted. Deportivo Pereira defender Luis Moreno was then seen kicking the bird towards the touchline.