Turkish riot police have fired tears gas upon protesters in Taksim Square on Tuesday evening following a day of clashes between demonstrators and the authorities.
On Tuesday evening, Istanbul's governor, Huseyin Avni Mutlu, said that police operations to clear the square would carry on. He warned: "We will continue our measures in an unremitting manner, whether day or night, until marginal elements are cleared and the square is open to the people."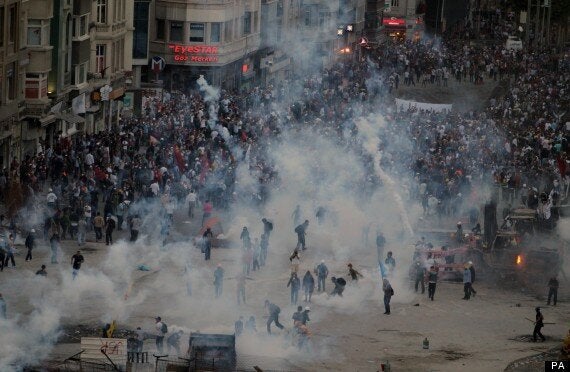 Riot police re-enter Taksim Square with tear gas
On Tuesday morning, police made announcements over load speakers before moving in on the protesters, firing gas canister every few seconds, forcing many to flee the area. Having cleared the square, protesters fought back with rocks and fireworks as police tried to remove posters and banners.
Turkish President Recep Tayyip Erdogan had warned that his "tolerance" had ended, and once again called the protest a conspiracy by "provocateurs and terrorists" designed to bring down his government. "I call on you to leave those places and to end these incidents and I send you my love," said Erdogan, ominously adding: "But for those who want to continue with the incidents I say: 'It's over.' As of now we have no tolerance for them."
Speaking to parliament, Erdogan said: "I want everyone there to see the big picture, to understand the game that is being played and I especially invite them to evacuate. I expect that of them as their prime minister. A comprehensive attack against Turkey has been carried out."
On Tuesday afternoon, hundreds of police crashed through makeshift barricades erected by the protesters as the 12-day stand-off entered a new and violent phase. Protesters fought back and recaptured areas of the square.
The protest started on 31 May as a peaceful demonstration against the redevelopment of Gezi Park, but gained a political narrative after police moved in on the demonstrators. Many of those who subsequently joined the protest have complained against the increasingly authoritarian and religious leanings of the supposed secular state.
So far more than 5,000 people have been injured and three people have died since the protests began.
Related