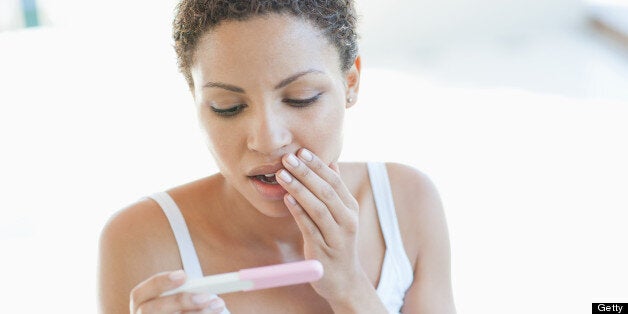 Tests allowing women to find out whether their pregnancy is continuing or ending may soon be available for use in the home.
A conference at London's Royal Society of Medicine will today hear how the semi-quantitative pregnancy test (SQPT) could provide reassurance to women in early pregnancy and improve the management of abortion and miscarriage.
Current tests for the distinctive hormone human chorionic gonadotropin (hCG) can tell women if they may be pregnant before they have even missed a period, although they cannot confirm whether or not the hormone is falling or rising.
But the new tests developed in the US can do so, meaning it is possible to state whether a pregnancy is continuing or ending.
For women who have ended pregnancies using the abortion pill, the semi-quantitative pregnancy test enables them to ascertain at home whether their pregnancy has ended, by showing that hCG levels are falling.
This removes the need for return visits to a clinic or hospital for invasive trans-vaginal scanning or hCG blood tests to confirm the abortion has been successful.
For women who have experienced a miscarriage and chosen medical (tablets) or conservative (natural) management, falling levels will indicate that the pregnancy tissue has passed and that no further procedures are necessary.
Joanne Fletcher, consultant gynaecology nurse at Sheffield Teaching Hospitals NHS Trust, said: "We know early pregnancy can be a very stressful time for many women, and a simple test that could provide reassurance that the pregnancy was progressing may alleviate some of that anxiety.
"For women who have experienced miscarriage, knowledge that their hCG levels are falling as expected may provide the peace of mind that no further interventions will be needed.
"For women undergoing early abortion, the introduction of this test into routine practice can only offer women more choice and provide an experience that best suits their personal needs."