Royal Bank of Scotland chief executive Stephen Hester is to step down from the group later this year.
The subject of numerous 'fat cat' headlines, Hester is guaranteed 12 months' pay and benefits worth £1.6 million and the potential for a £4 million shares windfall from a long-term incentive scheme. But he will receive no bonus for 2013.
On Wednesday night it was reported that the bank was planning 2,000 job losses.
Hester was appointed as RBS CEO in November 2008 and has led the rescue of the majority state owned bank.
But he constantly hit the headlines as his large bonus packages were deemed inappropriate.
Hester said on Wednesday: "It has been nearly five years since I joined RBS after the bank was rescued by the Government.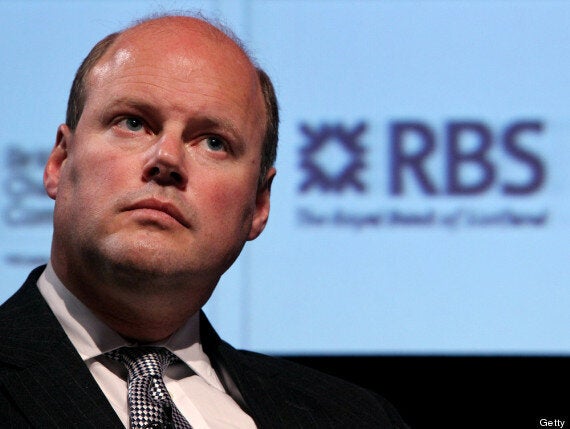 Stephen Hester became a villain like character over his RBS bonus
"In that time we have reduced the bank's balance sheet by nearly a trillion pounds, repaid hundreds of billions of taxpayer support, and removed the imminent threat that this bank's size and complexity posed to the UK economy.
"All the while we supported 30 million customers every day to help them manage their finances.
"We are now in a position where the Government can begin to prepare for privatising RBS. While leading that process would be the end of an incredible chapter for me, ideally for the company it should be led by someone at the beginning of their journey."
Hester, a Status Quo fan who enjoys skiing and hunting, replaced Fred "the shred" Goodwin at the helm of the part state-owned bank, and stood out with his ruthless ambition.
Chancellor George Osborne said the banker should be commended for "having brought RBS back from the brink" following its taxpayer bail out at the height of the financial crisis.
He said: "When Stephen Hester took on the job at RBS in 2008 it was a bust bank with a broken culture and posed a huge risk to financial stability.
"RBS today is safer, stronger and better able to support its customers. I want to commend Stephen Hester for everything he has done to make this turnaround possible."
Philip Hampton, Chairman of RBS, said: "His achievements have been considerable."
Sky News reported that the bank was set to announce 2,000 job losses in its investment division.
Unite national officer Dominic Hook told The Mirror: "Unite will be demanding an urgent meeting with RBS management because staff must not be left in the dark over the future direction of the bank.
"With over 30,000 job losses over the last five years and major stress for RBS staff there is likely to be a lot of anger over Stephen Hester's tax-payer funded multi-million pound exit package.
The decision comes amid mounting speculation over government plans for RBS, which is 81% owned by the State.
A high-powered commission of MPs and Lords are reportedly set to recommend that the bank is split into a good bank and a bad bank.
Popular in the Community