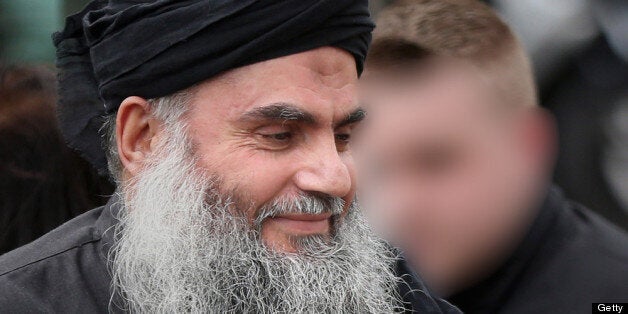 The fight to remove radical cleric Abu Qatada from Britain has cost the taxpayer more than £1.7 million since 2005, the Home Secretary has said.
In a letter to the Home Affairs Select Committee, Theresa May said the £1,716,306 figure includes the terror suspect's legal aid costs of £647,658, as well as more than £1 million in Home Office costs for pursuing the case through the courts.
The Government has been trying to deport Qatada to Jordan, where he was convicted of terror charges in his absence in 1999, for around eight years.
Committee chairman Keith Vaz MP said: "I am shocked that Abu Qatada's legal costs alone could have employed 90 new constables for a year."
Mrs May told the committee that there were a number of costs relating to Qatada's case, which fall across a number of Government departments and agencies and cannot be provided.
The legal aid cost is a net figure, she added, which takes into account the £217,286.57 the Legal Aid Agency has secured as a contribution to the controversial cleric's legal aid from his frozen assets.
The cost to the Home Office of pursuing the case in courts in England and Wales was £938,630, while the costs relating to the European Court of Human Rights in Strasbourg were £130,018.
The Jordanian parliament recently approved a treaty with the UK designed to trigger Qatada's removal.
The agreement, unveiled by the Home Secretary in April, aims to allay fears that evidence extracted through torture will be used against the terror suspect at a retrial.
Last month, Qatada unexpectedly volunteered to leave the country as soon as the treaty between the UK and Jordan is ratified by both countries.
The agreement has been approved by both houses of the Jordanian parliament but must still be signed off by the country's King Abdullah. The UK Government expects the treaty to be ratified in Britain by June 21.
But Mrs May previously warned that, even when the treaty is fully ratified, it will not necessarily mean that Qatada will be on a plane to Jordan within days. The case remains open to appeal.
Mr Vaz added: "The Home Secretary needs to ensure the Mutual Assistance Treaty is ratified as soon as possible, before our bill for Mr Qatada rises any higher.
"I am glad that the King of Jordan is visiting Parliament in the near future. He would be welcome to take Mr Qatada back with him."
Qatada is currently behind bars in London's Belmarsh prison after breaching a bail condition which restricts use of mobile phones and other communication devices.
The Special Immigration Appeals Commission (Siac) previously heard that a USB stick understood to belong to Qatada's oldest son contained ''jihadist files'' made by the ''media wing of al Qaida''.
Qatada is also being investigated by Scotland Yard over suspected extremist material found during the search of his home.
The Metropolitan Police passed on the material to Danish authorities to reportedly investigate a connection with a controversial Islamic publisher.
A Legal Aid Agency spokesman said: "The Legal Aid Agency has done everything in its power to ensure Abu Qatada contributes towards his legal costs and have secured frozen assets of £217,286.57.
"Legal aid for Special Immigration Appeals Commission cases is only available if the applicant passes strict financial means and legal merits tests.
"These cases are managed by the Legal Aid Agency under a case plan system, so that costs are carefully controlled throughout."
Matthew Sinclair, chief executive of the TaxPayers' Alliance, said: "Taxpayers will be disgusted at the amount of their cash that this vile hate preacher has cost us.
"On top of these legal costs for the Government, there is the legal aid and benefits he has enjoyed, not to mention security costs.
"By blocking his deportation, it is the European Court of Human Rights which has effectively landed British taxpayers with this eye-watering bill.
"This protracted saga underlines the need for urgent reform of human rights legislation so that such cases can be brought to a swift and satisfactory conclusion."