WARNING, GRAPHIC PICTURES: READERS ARE ADVISED TO USE THEIR DISCRETION WHEN VIEWING THESE IMAGES
A Brazilian farmer has survived a freak accident in which an angle grinder became embedded in his stomach.
Gregory Steinmedc was cutting firewood in Campina Mission, Brazil, when the blade slipped and burrowed 10cm into his abdomen, Brazil's Globo News reported.
The 56-year-old's quick-thinking wife Frida Maria was able to administer first aid before driving her husband 30 miles to the nearest hospital.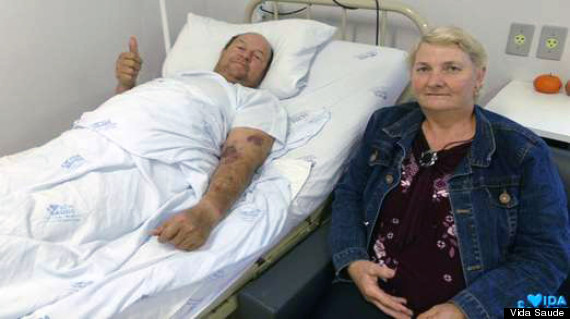 Thumbs up: Gregory Steinmedc and his wife after surgery to remove the saw
Miraculously, the power saw missed all of Steinmedc's vital organs and surgeons were able to remove it safely during a two-hour operation.
According to Sky News, the only complication during surgery was the fact Steinmedc had a previously transplanted kidney.
SEE ALSO: Brazilian Woman Survives Being Shot In The Mouth With Harpoon Gun By Her Husband (PICTURE)
The channel quotes his grateful wife as saying her husband has "seven lives".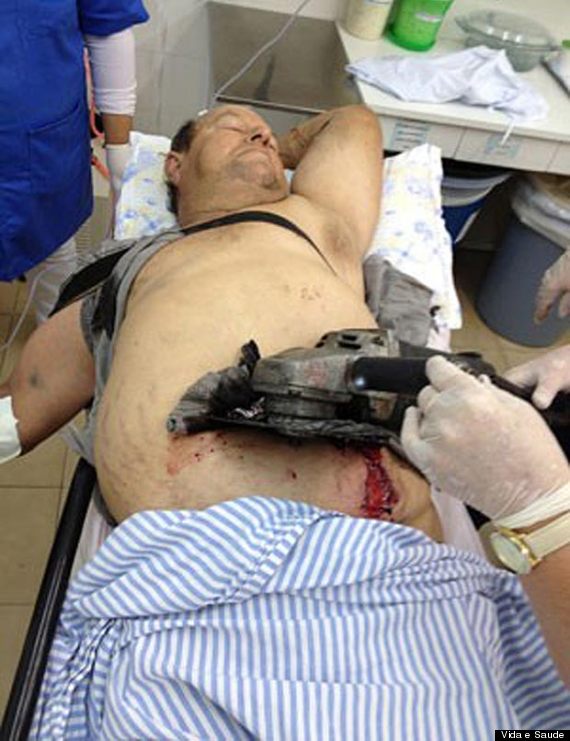 Horror: The saw embedded in Steinmedc's stomach
A surgeons who operated on Steinmedc praised Frida for not allowing her husband to remove the blade, explaining it could have resulted in "a haemorrhage of the abdominal wall and caused death."
While Steinmedc has vowed never to go near a saw again, he insists: "I had faith. I am strong. Not afraid to die."