A married teacher was warned by colleagues to keep his distance from one of his pupils seven months before he allegedly abducted her to France, a jury has been told.
Gossip had been circulating among pupils at Bishop Bell C of E School in Eastbourne, East Sussex, that the schoolgirl had a crush on 30-year-old maths teacher Jeremy Forrest.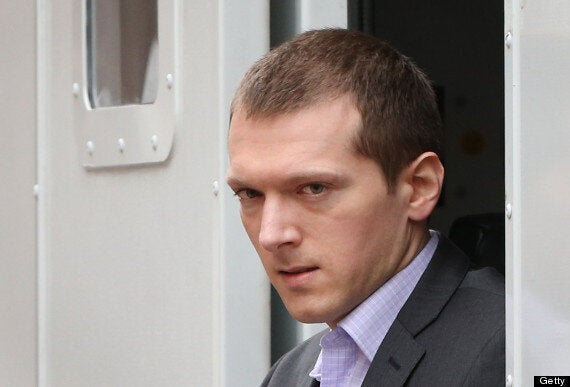 Jeremy Forrest spent seven days on the run after fleeing to France
Lewes Crown Court heard that some students claimed Forrest had shown favouritism to the girl during a half-term school trip to Los Angeles in February last year.
Teacher Emma Tremaman, who organised the trip, said the girl had avoided sanction for alleged misbehaviour after Forrest intervened, saying she had not been involved.
She said: "There were a group of girls that were complaining about (the girl) being let off and this is when some of the students claimed that she was always being let off and that she had a crush on Jeremy."
Ms Tremaman, who taught ICT and business, said she spoke to Forrest at the end of trip amid concern that the rumours could damage his career.
"At the end of the holiday there was an incident where Jeremy and myself were sat in the car park and I did mention to him the concerns a couple of the students had been saying."
She added: "He just thanked me."
Forrest had also disclosed to her that he was not looking forward to returning home and that, as he said he loved his wife, he became "quite upset".
Jurors also heard that, before the LA excursion, rumours had circulated among staff about problems Forrest was having at home, with suggestions that he had been sleeping in his car and that he might go to LA.
The trip took place seven months before Forrest and the girl fled to France. Police were alerted to their relationship, which had later turned sexual, following a tip-off.
When an officer and a social worker visited the girl's home to speak to her about what was going on, the pair decided to flee the next day.
During the visit, the girl's mother had given police permission to seize and analyse her mobile phone on which text messages and pictures exchanged between the pair were stored.
In a video-taped interview with police, the girl said she "panicked" when the authorities began to get involved and feared her mother's response to finding out.
Prosecutor Richard Barton has said that, knowing their relationship was about to be exposed, Forrest booked them on a cross-Channel ferry from Dover to Calais on 20 September last year.
CCTV caught them boarding the Spirit of France hand in hand at 9.20pm that evening before they arrived in Calais in the middle of the night and spent seven days on the run.
Forrest and the girl dyed their hair to try to avoid detection, he set up a French email account and bought a French mobile phone, and bogus CVs were drafted to help land them work, the court has heard.
Forrest used the alias Jack Dean and the girl also gave herself a bogus name on the false CVs in an effort to land employment while on the run, Mr Barton has said.
But an English bar owner to whom Forrest had applied for work recognised the pair from media reports, leading to them eventually being caught in the south-western port city of Bordeaux on September 28 last year.
Scots-born Forrest, of Chislehurst Road, Petts Wood, Kent, denies child abduction.
The court heard that police had halted their investigation into Forrest's relationship with the girl the day before they disappeared after finding "no evidence" on her mobile phone.
Alicja Bobela, the assistant head with responsibilities for child protection matters, spoke to police on 20 September following the visit by officers.
She said: "They said that there was no evidence on (the girl's) phone so they were not going to seize Jeremy's phone. So we were left with the idea that we had to follow up the investigation.
"We didn't know where to begin."
After being confronted about the rumours in July, Ms Bobela said Forrest told her they were not true.
Asked by defence counsel Ronald Jaffa about what he meant when he said "Why was she telling these lies?", she said: "He meant (the girl) talking about what wasn't true, and why was she doing this to him."
Forrest had offered to phone the girl's mother, which left Ms Bobela "quite stunned".
Comments are closed for legal reasons