Iran's most moderate presidential candidate, the cleric Hassan Rouhani, looks set to win simple majority as votes are counted in the country's election.
Rouhani has around 51% of the vote, trailing in far flung second was conservative Tehran mayor Mohammad Bagher Ghalibaf, and the most hardline candidate, nuclear negotiator Saeed Jalili has taken around 13% of the vote.
A high turnout seemed to dismiss fears that Irans would feel apathetic toward this presidential election, after the apparent vote-rigging of the 2009 election in favour of incumbant Mahmoud Ahmadinejad.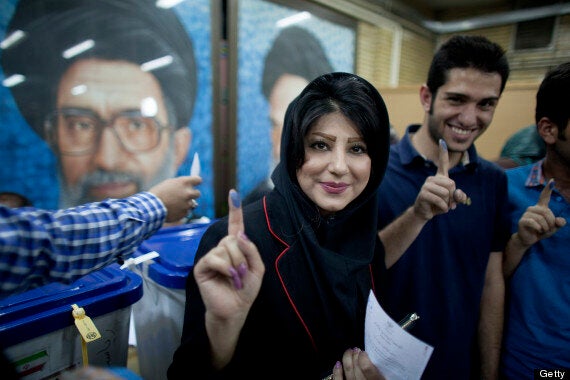 Iranians show their finger after casting their vote in the first round of the presidential election at a polling station
Then, votes from Iran's 50 million citizens seemed to have been counted in just a few hours. This time, authorities appear to be taking time to count the votes, with just eight million counted by Saturday morning.
In 2009, when Ahmadinejad won his second term, the opposition Green movement said the result had been rigged and widespread protests followed. Its leader, Mir Hossein Mousavi, remains under house arrest.
The Rouhani campaign tweeted early Saturday morning it expected a day of good news:
Rouhani, 65, is a former chief Iranian nuclear negotiator, and the former secretary of Iran's supreme national security council. He is used to negotiating with the West, having negotiated the pause in Iran's enriching of uranium.
His campaign message has been one of change and modernisation, and he will have capitalised on the vote split between his two conservative rivals, and snap decisions by liberal Iranians to vote for him to stop hardliners like Jalili winning.
Iran's supreme leader, Ayatollah Ali Khamenei had urged more citizens to vote, to prove to the US the election was legitimate.
"I recently heard that someone at the US national security council said 'we do not accept this election in Iran'," he said as he went to cast his vote. "We don't give a damn."
Related