A group of Thai Buddhist monks have been criticised after footage of them aboard a private jet, wearing earphones, sunglasses and travelling with a Louis Vuitton luxury bag emerged.
Spokesman Nopparat Benjawatananun said the footage was being examined to see if the monks had violated any Buddhist teachings.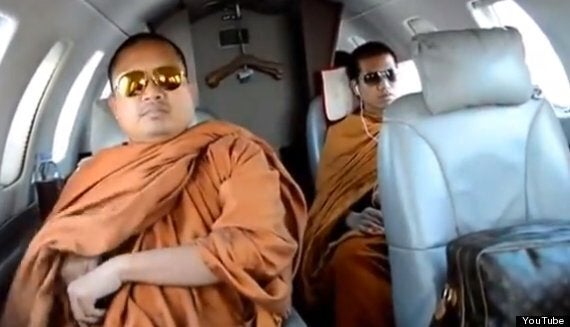 The monks are seen wearing sunglasses and using earphones aboard the private jet
"If the answer is yes, we will ask the local monastic chief to punish those involved," he said.
He added the monks were acting "inappropriately, not composed and not adhering to Buddha's teachings of simplicity and self-restraint."
Benjawatananun said he had been made aware of the video earlier this year and that the monks had been warned not to repeat the lavish behaviour, the Associated Press, reports.
According to one of the monks, the jet was chartered by a devotee to fly them home to northeast Si Sa Ket from Bangkok after performing duties in November, the Bangkok Post reports.
"To be in the monkhood one should be isolated and content with what one has," Pra Khru Vinaithorn Teerawit, of the Buddhism Protection Centre of Thailand, told the newspaper.
He added: "If monks chose to travel by jet then it's not suitable."
Popular in the Community