Harrowing pictures of child refugees fleeing the civil war in Syria have been released by the charity Save the Children.
The aid agency said children are dying by the roadside as growing numbers of desperate families try to escape the bloody conflict.
Moving black and white images show babies, youngsters and mothers huddled in blankets and sheltering in makeshift camps.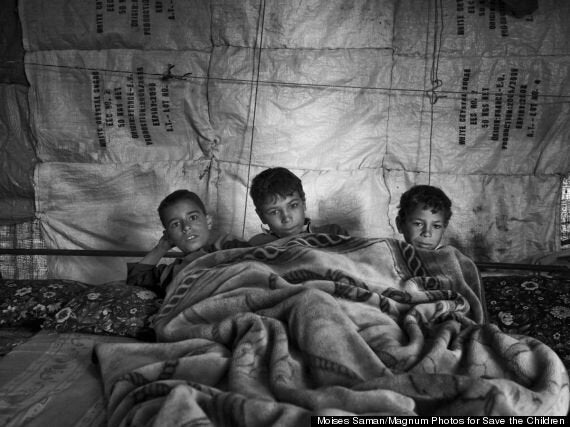 Syrian children waking up inside their tent in Lebanon's Bekaa Valley.
Save the Children said it spoke to civilians who had recently fled the country who told of a "death journey" on which children were separated from their parents.
According to the charity, at least one 12-year-old boy was left behind to die on his own after his mother was killed and he became too weak to continue the journey due to shrapnel wounds.
Justin Forsyth, the chief executive of Save the Children, said: "The horrific stories we've gathered from refugees over the past few days show how children are bearing the brunt of the Syrian conflict.
"Children in Syria are being killed, tortured, recruited as soldiers and abused in horrifying numbers.
"Children are being separated from their parents, and some are dying alone at the roadside from their wounds.
"Meanwhile conditions are proving too much for the weakest and most vulnerable babies.
"Millions of children are beyond the reach of humanitarian aid and have no option but to flee.
"Over half of all Syrian refugees are children and behind the frankly terrifying statistics of civilians fleeing their country are millions of individual tragedies."
The UN said in a report last week that Syria's children are suffering "maybe the heaviest toll" in the world, according to UN special representative Leila Zerrougui, who presented a new report on children and global conflict.
The report accused Syrian troops of torturing children suspected of having links to rebel groups, and accused rebel groups of using children in active combat and in support roles, such as delivering supplies and taking messages.