Anti-fascist campaigners have called on the home secretary to stop two far-right, anti-Islam activists from America speaking at an English Defence League rally in Woolwich, where Drummer Lee Rigby was murdered.
Atlas Shrugs' Pamela Geller and Jihad Watch's Robert Spencer, two prominent bloggers who founded the 'Stop The Islamization of America' campaign, gained worldwide notoriety for their anti-Islam subway posters in New York.
Nearly all of the signs, which read, 'In any war between the civilized man and the savage, support the civilized man. Support Israel. Defeat Jihad', were vandalised.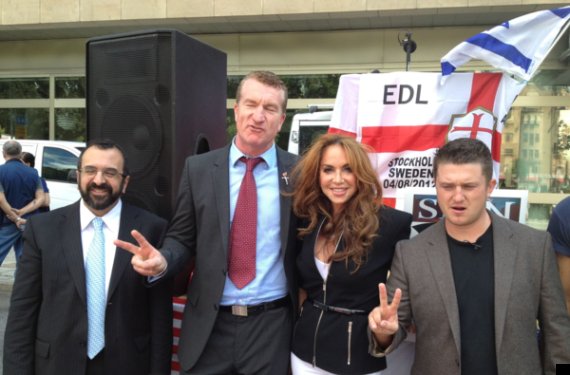 From (l-r) Jihad Watch's Robert Spencer, EDL's Kevin Carroll, Atlas Shrugs Blogger Pamela Geller and EDL leader Tommy Robinson
Labour MP Keith Vaz, chairman of the Home Affairs select committee told HuffPost UK: "I am alarmed that the EDL is planning this type of march in Woolwich.
"It is clear that the location, motivation and attendees at this march will incite hatred. Adding incendiary speakers such as Pamela Geller and Robert Spencer just fuels the fire.
"Before we have to pay the costs for the extra policing required for this demonstration the Home Secretary should consider using her discretion to ban these two speakers from entering the country.
"A ban should be enforced properly and physically stop people entering our borders. We cannot make the same mistake as we did with Sheikh Raed Salah."
Hope Not Hate have sent an open letter to the home secretary with more than 2,000 signatures collected in less than 24 hours, asking for Geller and Spencer to be denied entry to the UK.
The letter reads: "We believe that their [Spencer and Geller's] ultimate objective is to incite hatred against all Muslims and the consequences of their very presence in the UK will give encouragement to racists and extremists, who seek to use the awful murder of Drummer Lee Rigby to further their hateful agenda.
"Geller and Spencer are the most prominent anti-Muslim activists in the United States and their organisation, the American Freedom Defense Initiative, is widely considered a hate organisation. It recently placed adverts on the transport systems of several cities calling Muslims 'savages'.
"We believe that there is no place for such hate in the United Kingdom."
Geller told HuffPostUK on Twitter that the petition from Hope Not Hate was "Fascism and Hate. SS-like thuggery".
Fascism and hate: SS-like thuggery RT @jessicaelgot: @Atlasshrugs hi, what are your thoughts on this petition? http://t.co/cWSIWzmEfH

— Pamela Geller (@pamelageller) June 20, 2013
EDL leader Tommy Robinson, real name Stephen Yaxley Lennon, has long been a fan of Geller and Spencer, tweeting support for their campaign shortly after the Boston Marathon bombings.
It's at moments like this that the American people should sit up and listen to Pamela Geller and Robert spencer. #jihad

— Tommy Robinson EDL (@EDLTrobinson) April 19, 2013
Geller has also asked for people to donate money to the EDL via her blog and compared the arrest of EDL members to The Night of the Long Knives purge in Nazi Germany.
The EDL plan a demonstration, with Geller and Spencer scheduled to speak along with Anders Gravers of the Danish group 'Stop the Islamisation of Europe', in Woolwich on 29 June, Armed Forces Day.
The post on their website says: "For these three pioneers of the counter-Jihad movement to congregate and speak in Woolwich is quite phenomenal. We shall give them a warm welcome. They are the voices of common sense in a world of wilful blindness."
The EDL also plan a 17-mile 'Walk of Honour' led by Robinson and deputy leader Kevin Carroll. A post about the event suggests that the two men plan to march through multicultural areas where tensions could be easily inflamed.
"The walk will follow a route that is not for the faint-hearted and has the possibility to create headline news before its conclusion in Woolwich. Tommy and Kev will be walking alone through some of the most dangerous neighbourhoods of London. A scary prospect for any man but for the two leaders of the EDL; they are brave men."
The Home Office said it would not comment on individual cases.